DISCLOSURE: This post may contain affiliate links. We only recommend products that we truly feel will bring value to our audience. If you click on a link and make a purchase, we may receive a small commission at no extra cost to you. These commissions go towards improving our blog and creating a better experience for you. We really appreciate your support!
Spending 2 days in Faro, Portugal is the perfect amount of time as it is a small town. Faro is a great central hub for exploring Portugal as it is very close to so many small towns including Lagos. It's also not too expensive to travel there and stay either which is always handy. This doesn't mean that Faro isn't worth exploring though! We have had the pleasure to experience Faro and everything it has to offer. It really is a beautiful place with amazing food so you don't want to miss out when it comes to exploring this area of Portugal. It seems that Faro is an upcoming destination with more tourists wanting to visit each year. One of the biggest reasons most people visit is to use Faro as a base to go and explore the Benagil caves.
Table of Contents
Getting There
With its own airport, Faro is very easy to get to so you can't go wrong. Depending on where you fly from it may be more expensive. If you were to fly from Britain the good news is that you can get a flight straight to Faro. Often budget airlines will offer return flights to Faro for a really affordable price. This was one of the many reasons why we visited ourselves is because we were able to get cheap flights. We didn't add any baggage on in order to keep the getaway as cheap as possible.
Either way you will easily be able to find your way to Faro. The airport itself is so close so you will be able to get a bus from outside the airport to the town. If you take the 16 Proximo bus, you will be able to make your way to Faro town for approximately 3 euros so make sure you have some spare change with you. The bus journey isn't the most scenic view and it can get very busy too. We ended up using an Uber from the airport and it was such a smooth journey that took us straight to the centre. To find more information about getting from the airport to Faro centre, Algarve Tourist breaks it down for you here.
Where to Stay
Faro has so many great places to stay from hostels to hotels, all of which are good choices. We would recommend that you keep in mind that Faro is a small place. Therefore, no matter where you stay you'll be walking distance from everything you need. The local restaurants are at your doorstep just waiting for you to come visit. As everything is so close by, you don't even need to go 5 stars with where you want to stay if you don't have the budget or don't want to.
We feel that as long as it looks comfortable to sleep at night then you'll be happy. You don't want to spend too much time in the hotel other than to sleep so that you can explore as much as possible. We have 2 different options for you as an example to show you the difference of what Faro has to offer. They are both awesome places to stay depending on what you are looking for.
This is a beautiful 4-star hotel overlooking the harbour. If you didn't want to, you don't even need to leave the hotel. We hope you do though because there's so much more to see in Faro. This is the perfect place to stay if you're visiting Faro for a relaxing break. If this sounds like you then look no further than AP Eva Senses. This place has it all and we mean it ALL. From its own swimming pools, bars, restaurants and even a gym. Oh and did we mention that it holds its own events on the rooftop bar? It's practically its own nightclub. The only down side to this hotel you just won't want to leave.
Staying at a Hostel
Hostels are an amazing way to be in the middle of a town or city and it being cheap. You are more likely to meet other travellers in a hostel and people that want to socialise with you. The hostel community is normally a very friendly experience that helps when you're travelling especially solo. Choosing to stay in a hostel in Faro is a very good idea and you will have plenty of choices. The town and surrounding areas have so much to offer. You will want to go out exploring and trying new things. Since a hostel is self catering you'll need to explore for food. Not only will it push you to go exploring but you will also get to speak to other travellers. You will find that other travellers will recommend things to you that you may not have thought about doing before.
There are quite a few different hostels around Faro that it can be tricky to know which one is the best to choose. Here are our top recommendations for when choosing a hostel to stay in Faro:
Where to Eat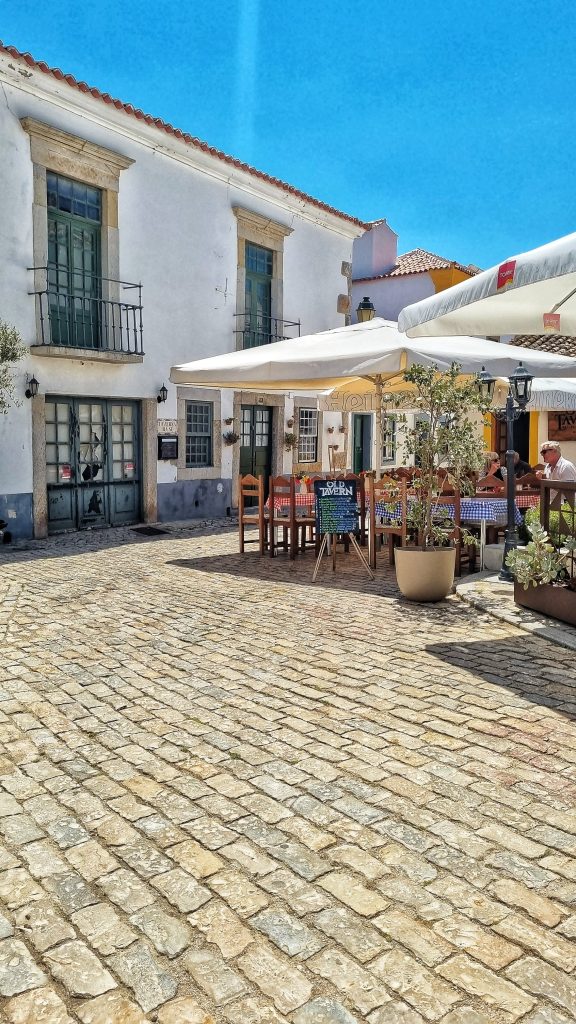 We all love good food. Well, in Faro all the food is good! we have had some of the best dishes from the local restaurants around Faro all full of flavour. Being next to the sea, Faro has some lovely seafood dishes. For Liam especially, it was the meat that was the winner for him. It was really tasty and he would move to Faro just for the food alone.
Breakfast
We would recommend heading down to one of the many cafes and grabbing yourself a hot pastry or fresh fruit salad. Waking up in a nice warm place such as Faro with something like a fruit salad and a coffee, outside watching as people are just starting the day with a calm feeling in the air just feels so right and peaceful. This is of course if you're a morning person because we know we like to have a lay in when we can. Even with that in mind you may have one day when you need to be up early to go sightseeing and if so we highly recommend doing this to start your day.
We recommend visiting one of the following:
Lunch
As we said before Faro has so many different restaurants to try and they are all reasonable priced. We would recommend a small place we went to called The Old Tavern. If you want to find your own place to go and eat you won't have to travel very far. The best part about all these places is that no matter what you're in the mood for they have got you covered. From seafood dishes to sandwiches, you wont go hungry here that's for sure! We recommend trying one of the following places:
Dinner
When going out for dinner in Faro we would have to recommend that you try some of their traditional foods. The Portuguese have such a rich culture and some of the best food we have ever tried which is so full of flavour its unbelievable. How about trying the Portuguese style sausage or the steak if you're a meat lover? If you're a massive seafood lover then cataplana could be the thing for you! Most places will do dishes like this and we feel that you need to try some of them before you go. We recommend visiting one or all of the following restaurants:
Snacks
All around Faro you'll find small shops where you can pick up small bits to snack on while you're on the move from local chips to chocolate bars. We would also say you should try and take advantage of the fruit. For some reason, as we are sure you know, fruit always tastes better abroad However, in Portugal they grow everything from peaches to strawberries so when you eat this fruit it really is as fresh as you can get it.
We recommend for foodies:
If you're hoping to explore Faro and are as obsessed with food as we are then you can't miss out on Faro's foodie tour. You will explore the Old Town trying around 10 traditional dishes from the region at 4 different restaurants. You will also receive a drink at each stop so you will certainly be fed and watered. This is a wonderful highlight for Faro and enables you to try all the traditional food in one go from the locals.
Drinks
When it comes to local drink in Faro, Portugal is well known for its port wine. If anywhere is the right place to have some port wine it's here. Portugal is one of the world's biggest wine producers so whilst you spend time there, you may as well treat yourself to a glass or two. Some of our favourites can be found below:
Things to Do
Like most places, Faro has an old town and it is worth going to see. With its own little bit of history, Faro is full of surprises! The buildings themselves are so beautiful and have been kept in really good condition. This is especially considering some of them date back to the 1800s. You feel like you have gone back in time as the roads are still made out of stone like the way the Romans would've done it.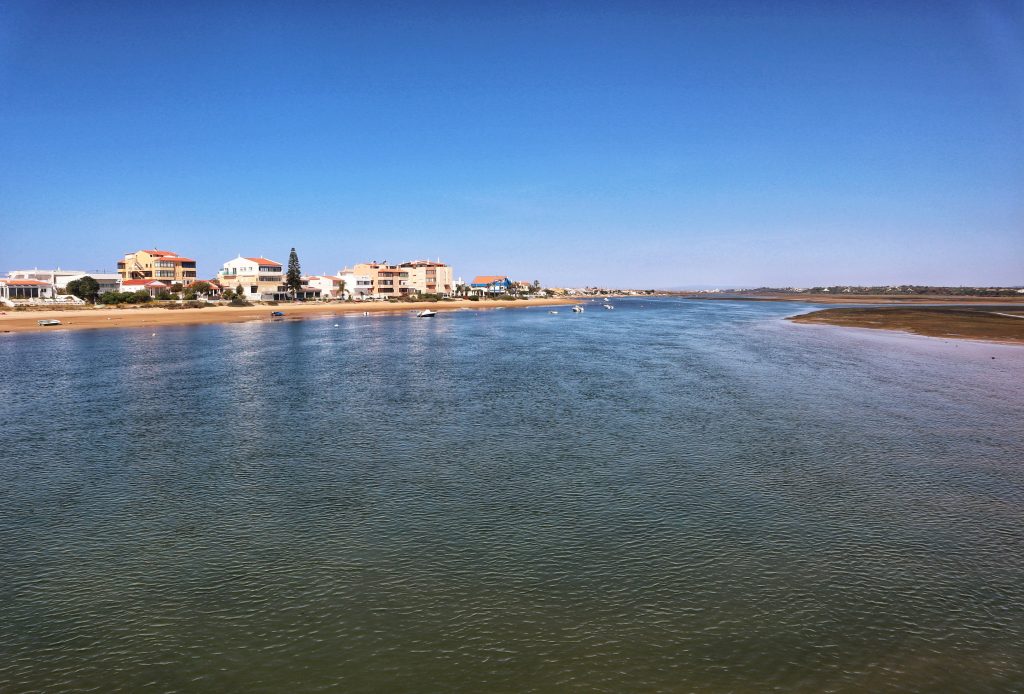 Who doesn't love spending a sunny day out on the beautiful blue sea looking out for dolphins and whales? You can have around 2 hours out on the boat depending on who you go with. Most places will do 2 or 2.5 hours on the boat. You'll have the chance to see the beautiful dolphins playing in the water just loving life. You could even see orcas (killer whales) depending on when you visit as they are known to travel past Portugal during the Summer.
Benagil Cave
One of the most amazing places in Portugal is the Benagil Cave. Not only is the cave picturesque but if you make the visit here you'll be standing in something that's at least 20 MILLION years old! If you want to visit here you'll be standing in something that has been around for all of human history. You can walk here but if you choose to do so you won't be able to get into the cave. You will actually be at the top of it, it is still a really nice view from the top of the cave and you are still able to see inside but you wont have the full experience. The only way to get into the cave is by boat. It will be a small boat that will bring you into the cave so you can see the impressive size of it and the beauty. There are plenty of different tour companies that will take you to the caves to make everything much easier. We've shared our favourite tours of the Benagil Cave below.
Visit the Old City Walls
The old city walls are a cool sight in Faro and they have a interesting past. They were made by the Romans to keep the city safe which was then called Ossonoba. Inside these walls would have been the very important buildings of the time. We found it quite interesting to learn about the Romans in Faro and what they brought to Portugal as a whole.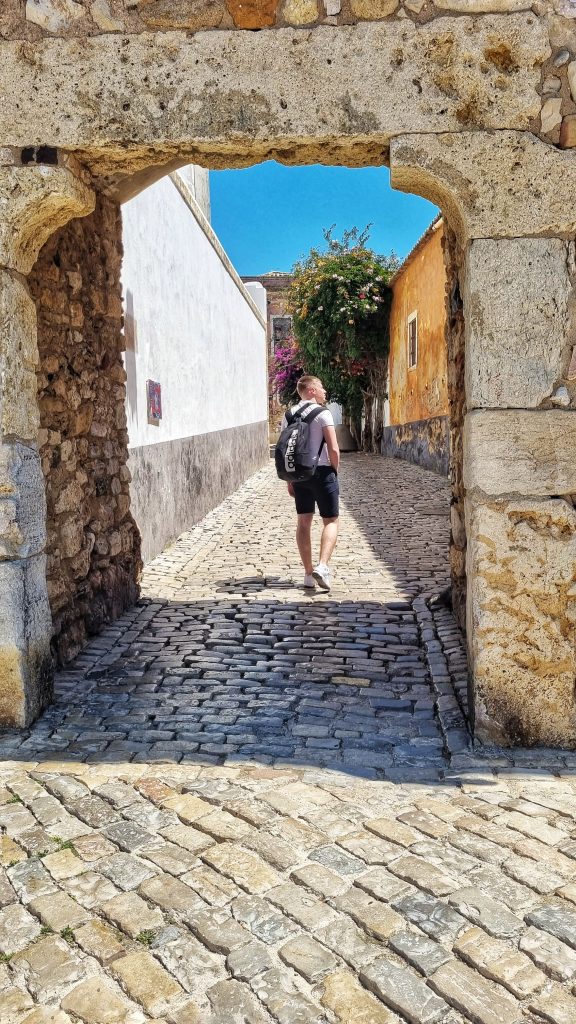 Praia de Faro
How about chilling on a big beach with soft sand and blue waters? Praia de Faro is a 5K long beach with an amazing view that would bring your visit to Faro to completion. Spending your last day or at least some of it chilling on the beach soaking up the sun seems like a good last day! You could even see some dolphins playing. You can even get in on the fun by jumping in the water yourself. The only thing is the beach itself is a 30 mins away by car so you do need to find a way to get there, if you love a walk then its a 1 hour walk but we can imagine most people would rather a taxi or even use the local buses that can take you there.
Our Recommended Itinerary For 2 Days in Faro Portugal
Day 1
Waking up nice and early and heading down to the local cafe for some breakfast and a drink. We would then have booked the trip to the Benagil Cave which takes up most of the morning taking photos of the cave and enjoying the boat ride there and back. As you would be having an early start, a siesta may be on the cards. Then take a walk through Faro heading over to the old city walls for some more cool and dramatic photos. Stop off in the old town to see the old structures and colourful buildings. After exploring the old town stop off for some dinner in a small local place such as Restaurante Xic. After dinner you'll have the opportunity to go out for drink in Faro with plenty of bars to choose from. We would recommend heading to Columbus to try some insane cocktails.
Day 2
Waking up a bit later in the day giving yourself time to recover from the day of exploring before. You'll be wanting some brunch so head over to Baixacaffe for a bite to eat. After having brunch, head over to the marina for some dolphin watching. Where possible, try to get this booked in advance especially during peak seasons. Soak up the sun on the boat looking for dolphins and whales, There is no better way to spend the late morning early afternoon on the last day. Once that is over and back in Faro we would be looking at heading down to the beach stopping off at the shop for some drinks and snacks. Having a nice afternoon chilling on the beach and possibly going for a swim before heading back into the town for some dinner.
Faro Portugal is an awesome get away!
We loved our time in Faro for such a small place they have alot to offer. Not only is it worth going to but it is a good place for traveling around Portugal. You could stay in Faro for a while, spend a few days exploring there then use it as a hub to venture out. Only have one day to visit Faro? then you can find a step-by-step guide to planning a day trip here. If you're thinking about planning a trip to Faro then do it because you wont regret it. If you're not thinking about it why not? Don't miss out on this experience and start booking your next travel adventure to Faro, Portugal.
Love, Amy & Liam x