Faro Old Town Restaurants
DISCLOSURE: This post may contain affiliate links. We only recommend products that we truly feel will bring value to our audience. If you click on a link and make a purchase, we may receive a small commission at no extra cost to you. These commissions go towards improving our blog and creating a better experience for you. We really appreciate your support!
During our time in Portugal, we were lucky enough to experience many different styles of their cuisine. Whilst walking around the Old Town in Faro we came across a handful of small restaurants to stop off for something to eat and drink. We had an amazing time meeting some very interesting locals. They gave us plenty of recommendations and taught us a bit about their culture. In particular, The Old Tavern staff were very helpful in educating us on where we should be visiting.
Restaurants to try in Faro Old Town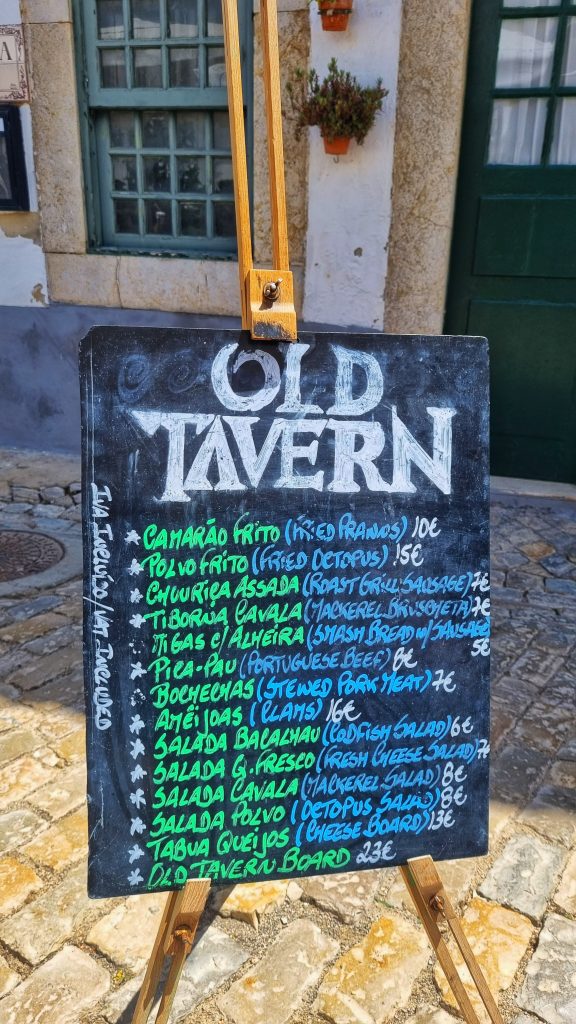 Portugal has a very flavoursome cuisine from seafood to a variety of meat. We started off our journey at the Old Tavern where we got to try both the beef and sausage cooked in a traditional style which Liam took a shining to. The Old Tavern was by far one of our favourite restaurants to eat in Faro town. The staff were nice and helpful, plus they are fun people. They have a lot of banter with their customers and making you feel very welcome.
We have added a photo of their prices so that you know what to expect when you visit! We found that the prices were quite reasonable but would not be ideal for solo travellers. As The Old Tavern mostly serves tapas dishes, you will want to order a few of these to get the best experience. Therefore, this is one of the best restaurants in Old Town Faro for sharing food and trying different dishes.
Restaurante Sol e Jardim is another one of our favourite restaurants to visit in Faro. Liam ordered the Portuguese-style steak which was topped with a fried egg. Amy had the traditional pork that came out on a massive plate. There was so much that Amy had to take a doggy bag home with her. No way she would have finished it all in one night, maybe Liam could have! Once again, the food was delicious and full of flavour. At one point, the chef even came out to see if everyone was enjoying their food. The staff are very friendly and are more than happy to help if you have any questions.
Food Prices
Faro is not the cheapest place in Portugal to visit but it is much cheaper than Lisbon. There are plenty of cheap places that you can eat if you're on a budget. The restaurants we went to in the Old Town was more around the average price range. On the first night, we spent around 30 euros for dinner but that was because we had beers and shots too! On average, the price of beer in Faro is around 2 euros. An ideal daily budget for food would be approximately 30 euros per person. Of course, this will depend on where you eat and the kind of food you would like as well!
Our Experience in Faro
There's many places to eat and visit in Faro so you will be spoilt for choice. Whilst being there you'll find yourself trying to pick which ones to try. The whole experience was amazing and you'll have a great time trying new foods. Our biggest advice is to make sure you try the Portuguese-style food and don't just stick to what you know. Not just that but also trying each restaurant's variation of the traditional food because they have some top quality tasting dishes.
We can confidently say that if you visit Faro you will have a very good food experience. There are so many choices of restaurants with their unique variations of traditional dishes bringing a blend of spices and herbs. The food alone will leave you wanting more from Faro, never mind the area itself. You'll have so much to choose from when it comes down to what to do around Faro, that when the day comes to an end and you're ready for some good food it will hit the spot just right.
If you're coming to Faro then you may need a helping hand on what to do and where to go. Check out our guide on 'what to do in Faro'. This is a small article for anyone who wants to get around the area with ease.
Love, Amy & Liam x