Edinburgh Best Date Ideas
DISCLOSURE: This post may contain affiliate links. We only recommend products that we truly feel will bring value to our audience. If you click on a link and make a purchase, we may receive a small commission at no extra cost to you. These commissions go towards improving our blog and creating a better experience for you. We really appreciate your support!
Edinburgh is an incredible city with plenty to do so we've compiled a list of the best date ideas to take your partner on within the city. Spending time together is important so making sure that you go on regular dates together is a part of that. Even when you're travelling and visiting new cities, you still need to consider when your next date night is going to be.
Whether you're visiting Edinburgh for a trip away or you live close by, it is still important to make sure that you're going on regular dates. When you're on holiday, taking the time to have a date night together is still important and ensuring that you're doing different things too. Sometimes when you have been with someone for a long time, you can end up going on the same kind of dates and it becomes monotonous after a while. We've tried to collate as many unique dates that you can go on in Edinburgh as possible.
Table of Contents
Explore a Museum Together
Edinburgh is filled with museums and the best thing about it is that most of them are free. There are only 2 museums that we know of that cost to enter and that is Surgeon's Halls and the Chocolatarium. Even though these museums cost, they are still excellent options for dates. Imagine strolling through the museum with your partner, learning how chocolate is made and getting to make your own to eat later! In our opinion, learning new things together is a great way to bond with each other and experience something different. Head on up to the National Museum of Scotland to get some incredible views across the city together. The only thing that is missing is a rooftop bar but the viewpoint is absolutely breath-taking! Other museums that you can enjoy with your partner include the Writers Museum, National Art Gallery and the Museum on the Mound.
Afternoon Tea
There are so many great places to enjoy some afternoon tea and if you're feeling up for it, you can usually upgrade to have a boozy afternoon tea too. You and your partner will get to try a plethora of different foods, drinks and often get to enjoy some beautiful surroundings whilst doing so. There are also some afternoon teas that are themed so you will also get to try the afternoon tea with your favourite theme. Spots that we recommend include the Colonnades at the Signet Library, the Dome and Red Bus Bistro. All of these places are unique locations for a romantic afternoon tea which will give your date a different edge.
Pub Crawl
Not usually considered as a date night activity but why not? You can have great fun on a pub crawl together getting to try different beers or cocktails in each location. This is also a great way to get to know a new city because you will be exploring various different locations. Not just that but you will be exploring these locations together and seeing the city in a different light. During the day, Edinburgh is a very busy city with tourists at every spot. As there are so many bars, pubs and clubs, you will find that they are not as busy as you would expect. You can also arrange a pub crawl as a guided tour so that you are taken to the best spots. You can reserve your place on this tour below!
Camera Obscura
This was actually one of our first dates together and also one of our favourites too. Camera Obscura is filled with illusions that will leave you both scratching your heads on how they managed to do it! We love Camera Obscura because it is an incredible way to bond together and understand each other too. You will have so much fun taking pictures together trying out the different illusions and interactive features. This is a huge recommend from us!
Edinburgh Zoo
Going to the zoo isn't for everyone but it is definitely an awesome day out together. If you're lucky with the weather then you will be able to enjoy learning about the different animals at the zoo, what they are doing for the environment and eating some ice-cream along the way.
Like any other zoo, the food is quite expensive here so we would recommend either taking your own picnic or grabbing a bite to eat once you've finished at the zoo. Our favourite part of Edinburgh zoo is getting to see the wallabies roaming around and wandering through the petting zoo. Did you know that there is also Corstophine Hill behind the zoo which you can climb and hear the sounds of the animals? Well, you do now! This is one of the 7 hills of Edinburgh that is definitely a great idea for once you've finished wandering around the zoo.
Aquarium
Naturally, after suggesting to visit Edinburgh zoo, we couldn't miss off visiting the Sea World Aquarium. This was our first official date and we loved wandering around appreciating the marine life. Of course, our favourite part was wandering underneath the shark tunnel and watching the sand sharks. This is another great way to learn together and enjoy each other's company. Once you've visited the aquarium, you could also spend some time wandering down the coast admiring the beauty of the Forth Bridges. If you wanted to turn your date into a whole day out then you could always bring a picnic to the aquarium with you and then enjoy this with a spot where you can view the bridge afterwards.
Hike one of the 7 hills or all of them!
Hiking is an incredible date to share together because you get to experience new wonders together. Edinburgh has a plethora of places where you can go hiking including 7 hills. If you're up to the challenge and want to experience this together then it is possible to hike all 7 of the hills in one day. Please note that this is a difficult challenge if you're walking between each hill also so this is not a light hike at all. The hills that you can hike include Carlton Hill, Blackford Hill, Craiglockart Easter Hill, Arthur's Seat, Castle Hill, Braid Hill and Corstophine Hill.
This is definitely one way to see the city and get some good exercise together whilst you're at it! You don't have to climb them all though even just hiking one together is an incredible feat and you will get to share this experience together. If you're not used to hiking then there is no greater feeling than when you get to the top of the hill and stare out at the beauty of the city. If you are planning to take on the 7 hills challenge then make sure you that you leave very early in the morning so that you can get to see all the views in the light of day.
Harry Potter Walking Tour
If you're just visiting Edinburgh or perhaps you even live nearby, the Harry Potter Walking Tour is another great way to view the city in a unique way. It is amazing how much J.K Rowling used this wonderful city for inspiration in her books and the films. This is a great tour to do together for any Harry Potter lovers and it is also budget friendly too. This walking tour is free except from any tips that you plan to leave at the end of the tour. Once you've finished the tour, you will be able to head off and enjoy some of the locations on your own such as grabbing a drink at the Elephant café. Perfect date for any Potterheads that want to see the city from a different perspective.
If you both share a love of books then embarking on Edinburgh's Literary Tour might be another good way for you to enjoy time together. Of course, there will also be a few Harry Potter stop offs on this tour too! It's a great way to explore the city's literary influences and share together.
Brunch
It is a common misconception that brunch is a 'girly' thing to do. That is not true at all and if your partner enjoys going for brunch with their friends then this is a great way to step into their world and see why. There are many different themed brunches that you can enjoy throughout the city including Drag Brunches, boozy brunches and even a brunch spot dedicated to just pancakes. You will be spoilt for choice on where you can enjoy brunch within Edinburgh. We would recommend The Painted Rooster, Candy and Stack & Still. What is not to love? Eating good food across the table from your significant other and maybe even enjoy a couple of drinks whilst you're at it!
Picnic
When you catch Edinburgh on a sunny day, you need to take advantage of it by heading out to one of the many parks for a picnic. You're easily able to pick up some items for a picnic from one of the supermarkets and grab some beers or a bottle of wine if you like. You can take your picnic out to The Meadows and enjoy the glorious sunshine and views whilst people-watching. This is a great idea for a date night because you can enjoy some time away from social media and screens and just being in each other's company. Other great spots for a picnic in Edinburgh include Princes Gardens, Carlton Hill, Dunbar's Close and Holyrood Park. What better than to spend a romantic day with your significant other enjoying some sunshine, good food, beautiful views and each other.
Marcos Pool Hall
One of the best ways you can bond together as a couple is letting a little bit of your competitive side out. Marcos will definitely allow that with plenty of pool tables and arcade games. If you've had a couple of drinks you can even book a karaoke room and try your hand at some singing together. This is one of our favourite places for a date in Edinburgh because it is so casual. The best thing is that if you go on Sunday, you will be able to get 2 pizzas and 2 hours of pool for £20 which means that you'll have cheap food and entertainment. This is definitely well worth a visit when you're in Edinburgh.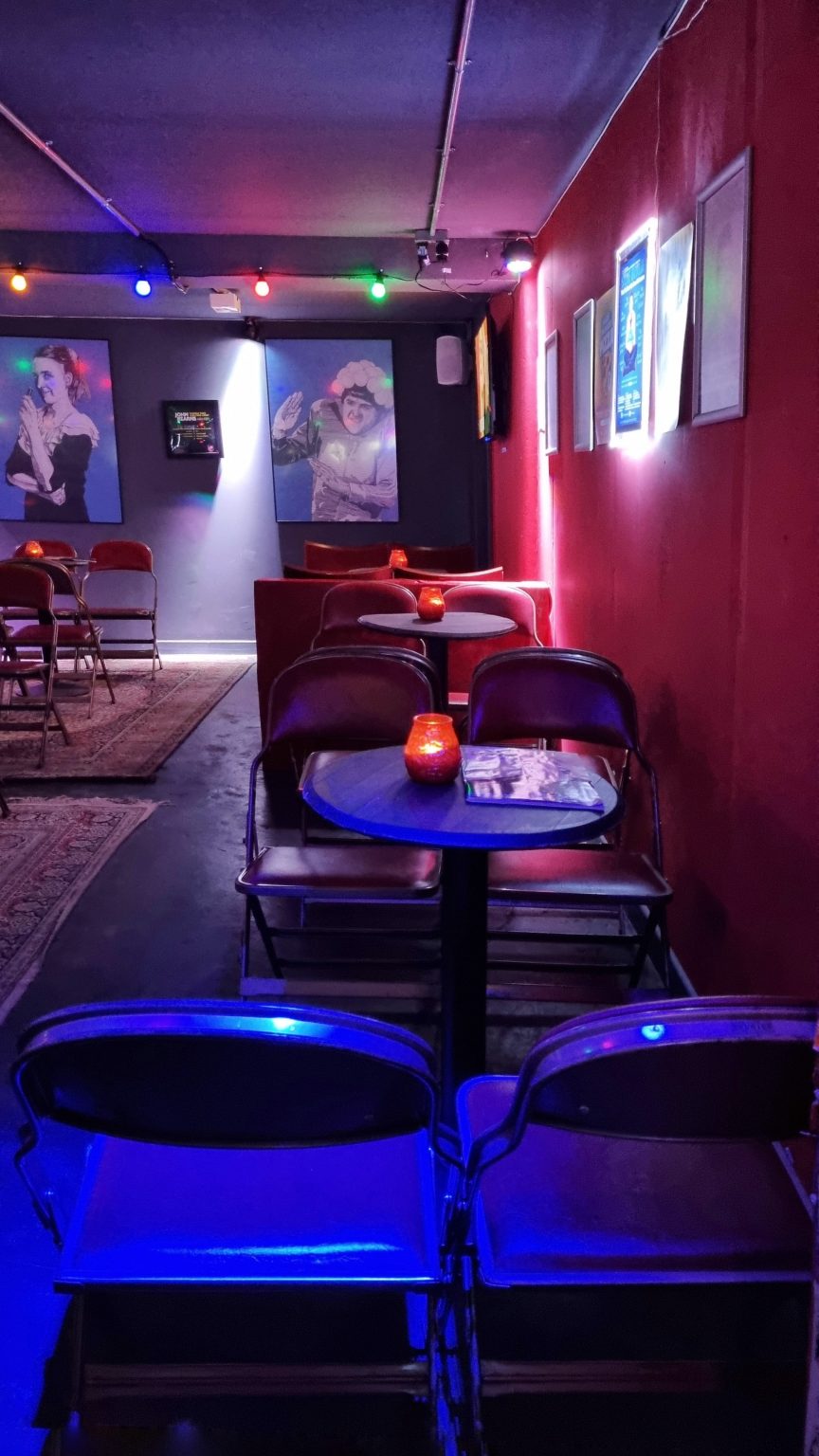 Comedy Club
We first met in a comedy club and you'll really enjoy date night at one of the clubs in Edinburgh. We met in the Monkey Barrel and have since returned for another date night. It has a really chilled, informal atmosphere and some great comedians lined up. The one thing that we love about this comedy club is that it is not too expensive and you really do get your money's worth. Laugh along together all night at one of the incredible comedy clubs within Edinburgh.
Portobello Beach
Take yourselves just out of the city and get to enjoy the beauty of the seaside. Pick yourselves up some pieces for a picnic or maybe even a portable barbeque and head over to Portobello beach. There are 2 miles of the beach where you can sit and enjoy each other's company with a romantic picnic. If the weather is in your favour, then why not hire out a kayak together? If this is something you've never tried before then it will be a perfect experience to have together.
Edinburgh Playhouse
One of the greatest things about being in Edinburgh is that there is so much to do right at your fingertips. You can get dressed up and head over to the theatre for the evening to enjoy your favourite musical or play. You can often find tickets at a great price online. It is worth trying to book these in advance if you can because tickets tend to sell fast. This is a beautiful evening for you and your partner to share together and get to enjoy a night out at the theatre.
Cocktail Making Experiences
If you both enjoy having a drink or two then this is the perfect way to spend a date night together in Edinburgh. There are plenty of different restaurants and bars that host cocktail making evenings but you can also book a Harry Potter experience too at the Department of Magic. The great thing about this is that you can combine it with their escape room so that you get the best of both worlds.
Independent Cinemas
Heading to the cinema is one of the most common date nights but why not do this with a little bit of a twist? Instead of watching the latest movies in a standard cinema, why not head over to the Dominion? You'll get to enjoy the movie with the luxury of a comfortable sofa. This is a unique way to enjoy your favourite movies. The thing that we love the most about this cinema is that it is an old-fashioned cinema combined with luxury of your own home and it works so well to get snuggled up together. If you're wanting to watch some classic movies then head over to the Scotsman Picturehouse and take a step back in time. Edinburgh also has plenty of outdoor cinemas too so that you can snuggle up together enjoying gorgeous summer evenings!
Escape Rooms
Escape rooms are incredible fun but they can definitely make or break you! Either you work well together or you end up getting stressed at each other trying to figure out the clues! Let's hope it's the first one. No, seriously though, they are an incredible way to work together and build on your communication skills whilst having fun at the same time. There are plenty of different themed escape rooms within Edinburgh including Harry Potter, Space and Zombie apocalypse.
Mini Golf
Mini golf is great fun to enjoy together especially when you're trying different themed ones too. Edinburgh has plenty to choose from including neon themed Portal Golf, quirky Fore Play and Lane 7 which also has bowling lanes too! This is another great way to bring out your competitiveness and see who can come out on top and take the trophy for mini golf winner!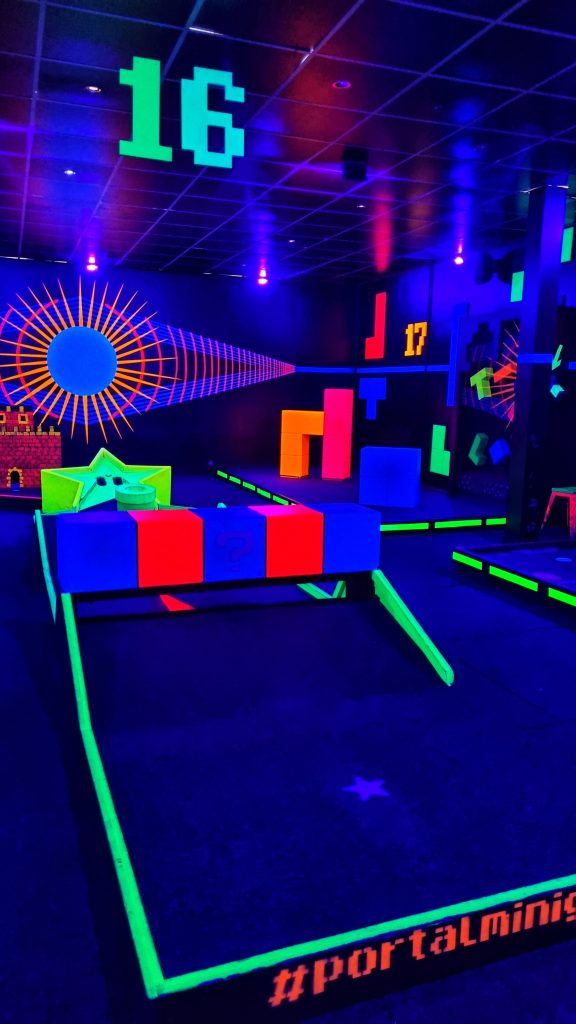 Gaming Together
If you are avid gamers then you should head over to the NQ64 bar. This is an awesome place to go because it is decorated with a retro theme and retro games to match. You and your partner will be able to challenge each other to classic games including Pacman, Mortal Combat, Street Fighter and of course Mario Kart. This bar has a range of consoles that you can play together with themed cocktails to match! This is one of our top recommendations to visit because you will be occupied all evening and even the style of the bar itself is enough to make you want to go!
Edinburgh Dungeons
Lastly but certainly not least, head over to Edinburgh Dungeons for your date night and prepared to be scared. We've visited a few different dungeons across Europe now and Edinburgh is up there as one of our favourites! There is no better way to get close on date night than for your partner to cosy up to you because they're frightened! It is great fun to get to know the more gruesome side of Edinburgh and perfect for any couples that love a bit of gory history.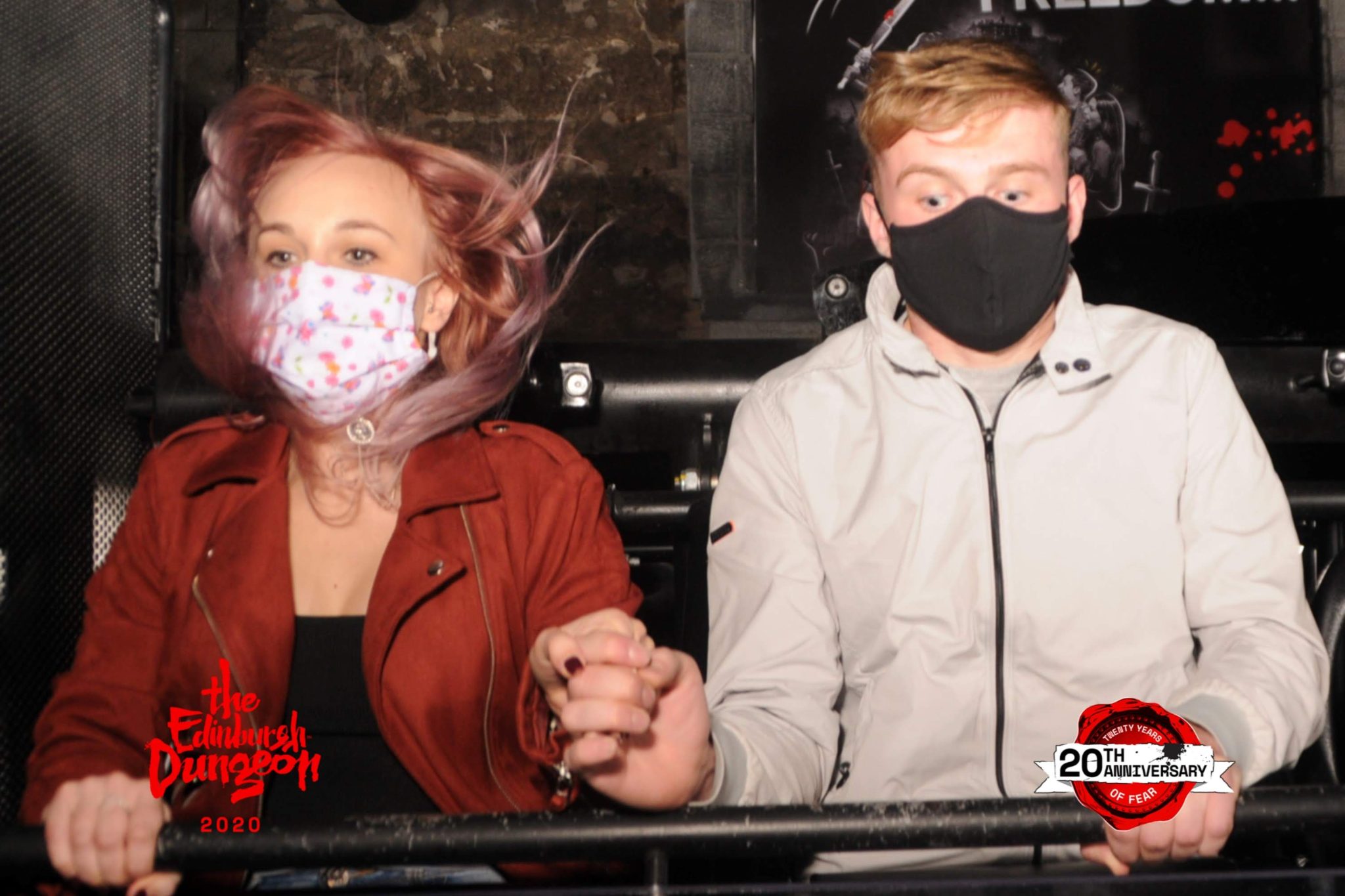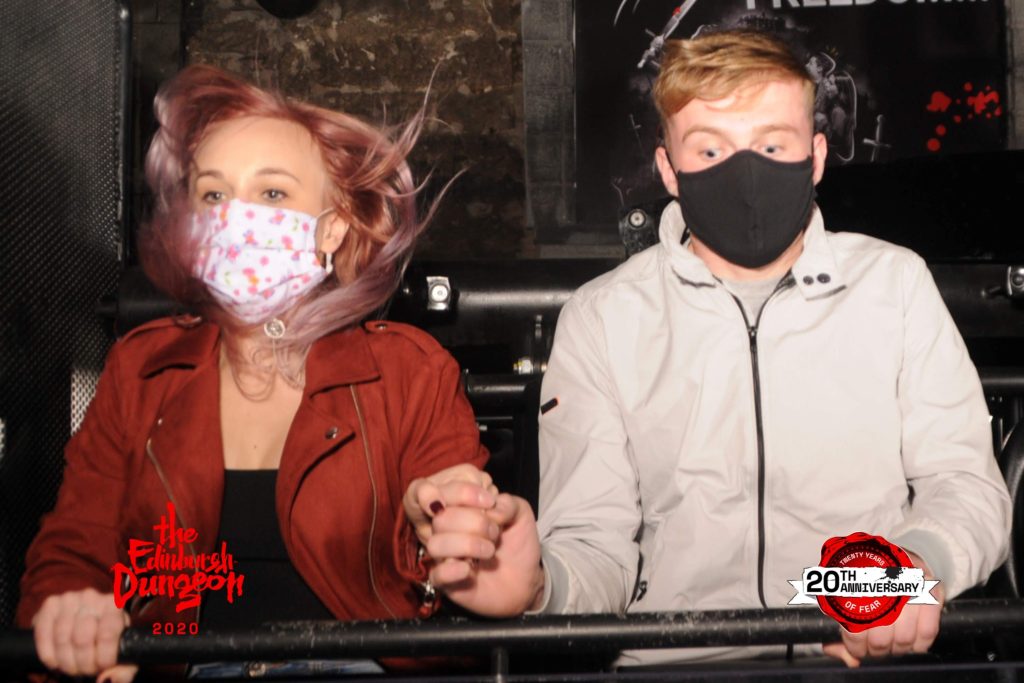 Edinburgh is one of the best places to be to enjoy a date night with your loved one. There are so many wonderful things to do in the city that even if you lived here for a few years you would be spoilt for choice! We've shared some of our best date ideas in Edinburgh to help inspire you to have some more unique date nights.
We hope that this article has helped you plan some quirky dates for when you are next in the city. If you're planning to visit then do not forget to subscribe and grab a copy of our FREE ultimate guide to Edinburgh. We have shared absolutely everything you need to know about Edinburgh so that you don't have to spend time researching. We've put it all into one nifty PDF document delivered straight to your inbox!
Love, Amy & Liam x