Travel Guide to Inverness
DISCLOSURE: This post may contain affiliate links. We only recommend products that we truly feel will bring value to our audience. If you click on a link and make a purchase, we may receive a small commission at no extra cost to you. These commissions go towards improving our blog and creating a better experience for you. We really appreciate your support!
We've created this travel guide to Inverness mostly for first time visitors but you may find out some things that you didn't know before if you have visited already! In our opinion, this is the real gateway to the highlands of Scotland. If you are travelling to Scotland then Inverness should be at least in your top 5 destinations, if not number 1!
Everything that Scotland has to offer can be found within Inverness. If you're looking for history, hillwalking, sight-seeing, Lochs or even just a night out, you will find it here.
Weather
When coming to Inverness you'll find that the weather is not quite like the rest of Scotland. For an example the whole of Scotland could have rain all week long but for some reason Inverness will be sunny, but then it also works the other way around. We have had times when we have been in Inverness and snow is still on the hills in August! The weather is can be a bit hit and miss so you need to make sure that you check the weather before visiting and plan accordingly. However, there are plenty of things that you can do in Inverness when it's raining so it shouldn't put too much of a dampener on your trip (forgive the pun!).
Night Life
The night life in Inverness is different from most cites because even though it is classed as a city it is more in fact a big town. When you go on a night-out you'll be expecting nightclubs and hundreds of bars to pick from. That's not what you get in Inverness! There is no nightclub in Inverness but all of the bars have a great atmosphere. There are lots of great pubs that you can visit too and The Aye Life shares 10 of the best ones to visit.
How To Get Around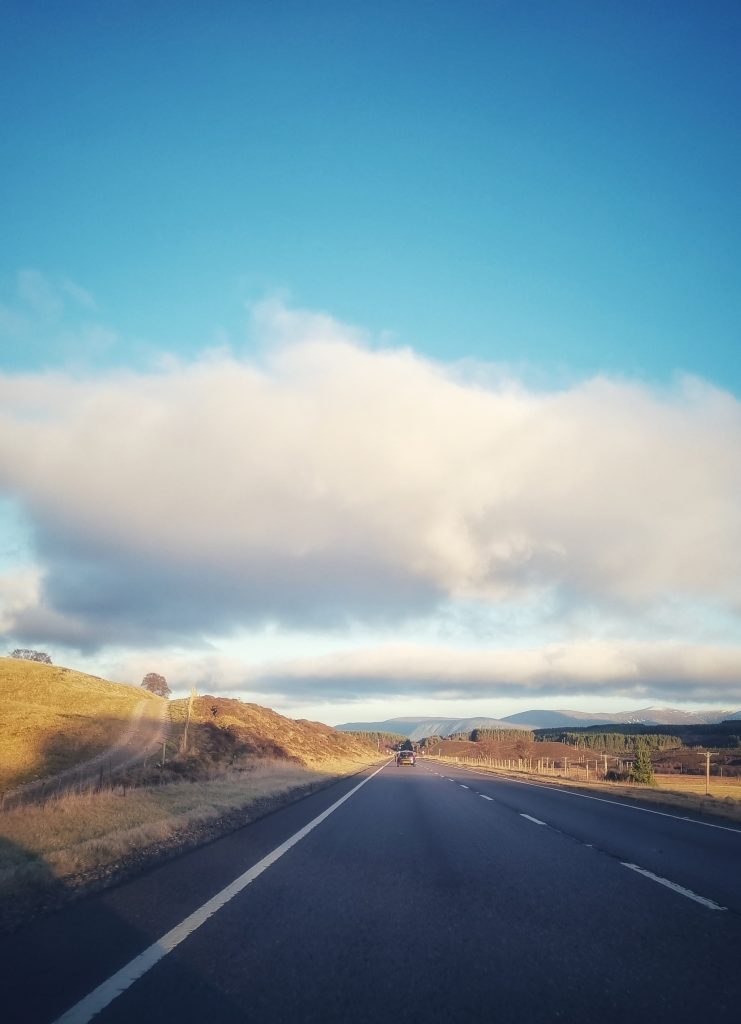 If you have rented a car then this is definitely the easiest way to get around Inverness because there are some sights such as Loch Ness, Clava Cairns and the Culloden Battlefield that are a little bit further out of the city. If you don't have a car and are planning to do various things outside the city centre then it may be worth looking at getting a combined tour that takes you to all these places to save hassle!
However, there are plenty of buses to help you find your way around too if you would rather self-guide. In Inverness City you will find multiple bus stops that will take you everywhere you need to go. The bus fares are cheap and can be purchased when getting on the bus with a contactless card or cash.
An alternative way to getting around (and also much more eco-friendly) is by renting a bike. You will find many great routes to cycle and you will get some incredible views cycling around too. There is a train station within the city centre and you can purchase tickets either at the station itself or online using sites like Trainline.
Lastly, there are lots of local taxi companies that will be happy to help you out but remember that these are charged on a meter so it should be used more for getting from and to instead of asking for a driver to wait for you. Otherwise, you will find that you'll rack up a very high meter!
Where To Stay
If you're planning your trip to Inverness then one of the first things you are thinking about is where you're going to stay. Don't worry, we've got you! We've made a list of 10 different places ranging in price so that you're located in the centre and don't need to worry about travelling around too much. This will help you find the perfect place for your stay no matter what your budget is!
| | | | | |
| --- | --- | --- | --- | --- |
| | | | | |
| | | From £50 per night per person | | |
| | | From £30 per night per person | | |
| | | | | |
| | | | | |
| | | | | |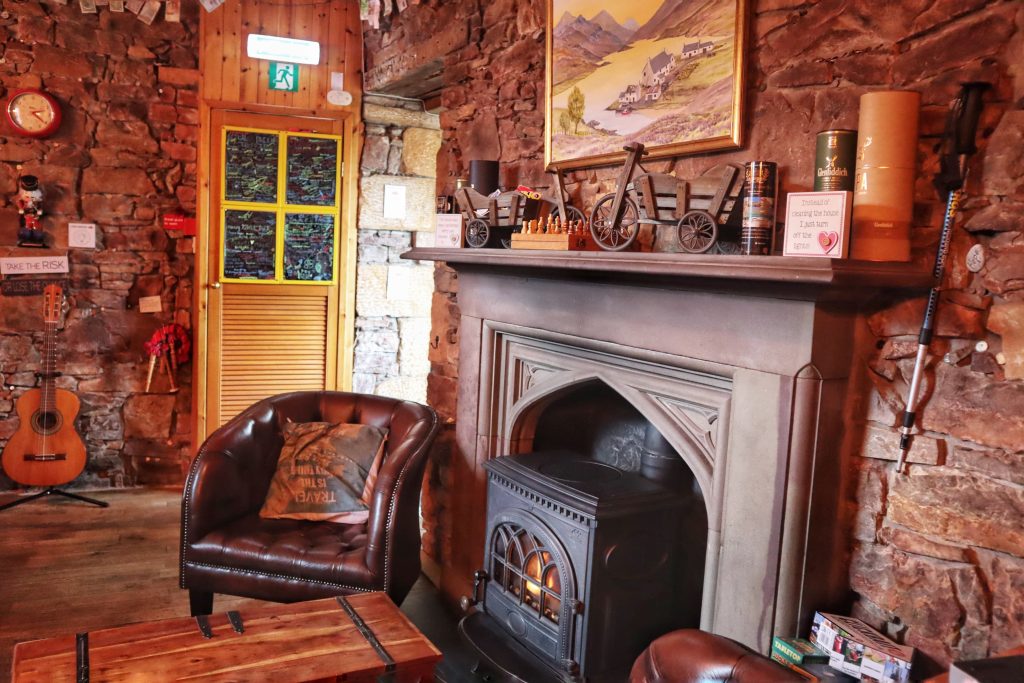 One of the top-rated hostels in Inverness, you will be guaranteed to be surrounded by a great atmosphere. I mean not many other hostels provide a free guitar for playing! The hostel is located just in front of the Castle and offers 4 and 6 mixed shared dormitories. For our female travellers, there is also a 4-bed female only dorm. For our couples, you can get a private double room with gorgeous views or if you're just friends, there's twin beds too! Families can also have the option of a private self-catering apartment so there really is an option for everyone! One of our favourite parts about this hostel is how warm and cosy the communal area is. You will be able to enjoy your evenings curled up with other guests socialising!
With free board games, a guitar, cosy fireplace and a garden to have an awesome barbeque, you will have an incredible experience at this hostel!
Highlights
– Free Wi-Fi
– Free Tea and Coffee
– Lockers in all dorms
– Towels provided and can borrow a hairdryer if needed.
– Free board games and guitar.
This is easily one of the most popular hostels to stay in when you're visiting Inverness. One of the top reasons why is that the hostel is located above the owner's bar so there is a great place to socialise with friends. The Black Isle Bar offers a selection of 26 craft beers on draught, never mind what they have to offer for bottles & cans too. You can order some wood fired pizza too which is super yummy! We absolutely love the beautiful artwork across the hostel which shows just how open and bubbly Black Isle is. The staff are friendly and will be happy to help you in any way they can.
You can choose between a 4 or 6 bed mixed dorm room or a private room. There are towels and hairdryers for hire and security lockers to keep your belongings safe. The hostel also has a common room and for book lovers there is a book exchange too! For those of us with furry family members in tow, it is also pet-friendly at an additional charge of £10.
This is a unique hostel within Inverness because it has great rated accommodation, drinks, food and it is incredibly close to the train and bus stations.
Highlights
– Sociable location / atmosphere
– Outdoor terrace
– Bicycle parking
– Free Wi-Fi
– Free Tea & Coffee
– Located above their own bar
– Located close to train and bus stations.
This hotel provides some great views of River Ness due to being based on Church Street. The bar located on site will give you a great place to sit, enjoy a drink and for the digital nomads get some work done whilst admiring some great views.
It is in a really good location with only a 4 minute walk to Inverness Castle and is also pet-friendly. There is parking and breakfast available for additional charges. What's more is that there is also 24-hour room service available too! The bar area is beautiful and a great place to relax! The one thing we really love about this hotel is that there are a lot of social and communal areas where you can have fun. This is especially good if its raining (very common in Inverness) and you don't want to venture out for the evening.
This is the perfect hotel for you if you're looking for a little bit of luxury but still at an affordable price.
Highlights
– Free Wi-Fi
– Great Location
– Beautiful Views of River Ness
– Bar & Restaurant
– Free Toiletries
This is a stunning luxury hotel located just a 4 minute walk from Bellfield Park and 6 minutes from Inverness Castle. The photos of the hotel speak for themselves on how luxurious your stay will be here. You will finish your day sightseeing and be able to come back to your hotel and truly relax especially if you want a soak in one of their incredible bathtubs!
One of the things that we love the most about Glenmoriston is the beautiful views from their dining areas. You can sit outside during the summer and enjoy some drinks right on the bank of Inverness. This stunning town house also has a mixture of accommodation too. Not only do they have rooms available but you can also stay in an apartment for the night which are great options for families.
This is the perfect place to stay for anyone that is looking for picturesque views and some luxury. It is also a great choice for families to stay in their gorgeous apartments.
Highlights
– Pet-friendly
– Free Wi-Fi
– Parking Included
– Bar / Restaurant
– Room Service
This is an incredible place to stay if you're looking for some R&R on your trip to Inverness. You can treat yourself to a manicure / pedicure, aromatherapy and massages at their spa. There is also an indoor pool at this hotel. All this is located just a 3 minute walk from the Cathedral and a 6 minute walk from the Castle.
From the moment you walk into the Inverness Palace Hotel , you will know that your money has been well spent and you are paying for a quality room and luxurious amenities. If you're looking for a relaxing break away then this will be the perfect hotel for you. You will be able to take advantage of the spa treatments, soak in the pool and burn off some energy in the gym. As
You will be delighted with the gorgeous views of River Ness and can enjoy lunch or dinner with this in your sight!
Highlights
– Spa Facilities
– Pet-friendly
– Indoor Pool
– Free Wi-Fi
– Parking Included
– Restaurant / Bar
What To Do In Inverness
There is a lot to do within Inverness both inside the city centre itself and just on the outskirts of Inverness. We've created a list of the top 10 things that you need to do when visiting Inverness. If you're planning to visit a range of these sights then it may be worth checking out a self-guided audio tour so that you can go the best route and listen to history behind them all.
Leakey's Bookshop
This is one of the most unique things to do within Inverness and it is a book lovers paradise. Growing in popularity, Leakey's bookshop makes you feel like you've been transported into something out of Harry Potter. There are stacks and stacks of books as far as the eye can see and you could easily spend hours here. There is no charge to enter but we can't promise that you won't walk out with a lower bank balance because there are so many books that you will want to add to your collection!
This is one of the best things to do if you want to explore a bit more of the nature within the Highlands. If you're planning to visit Ness Islands then why not head over for sunset? There is so much beauty to take in that you will be speechless. It is a rarity that you can walk from a modern city and within a few minutes you will transported into the countryside. You can occasionally see seals from here but they are very nervous of humans so keep your distance and you will be able to watch them for a long time.
Inverness Castle
This is one of the most popular things to do within the City Centre and you'll quickly see why. This beautiful castle sits at the highest point of River Ness and will take you back in time. The castle was in 1057 and is also featured in Shakespeare's Macbeth. It is currently closed for some refurbishment but you will still be able to visit and enjoy some beautiful views of this marvellous piece of history.
Urquhart Castle
This is another place that is a little bit outside of Inverness but is well worth the journey. You will be transported back in history once you see this medieval fortress. It is one of the largest castles in Scotland and has a lot of history that comes with it. You will be able to experience some beautiful views of Loch Ness and explore the artifacts and remains of the Castle. You will be able to get a bus to the Castle by taking the 919 bus. However, if you're planning to visit Loch Ness too then you can always do a combined tour. We've left links below for the bus timetable and also guided tours that you can go on.
Inverness Cathedral
Cathedrals may not be something that you would first think of visiting within Inverness but we would recommend taking time to check out this one. With beautiful architecture, you will be astounded by the details both inside and outside this Cathedral. It first began to be built in 1866. You will also find that you can get some incredible views of the River Ness from the churchyard. The Cathedral is open 365 days a year between 10am – 4pm and there is no charge to enter. However, as there is a lot required to keep it maintained, they would always appreciate a donation if you can spare some change.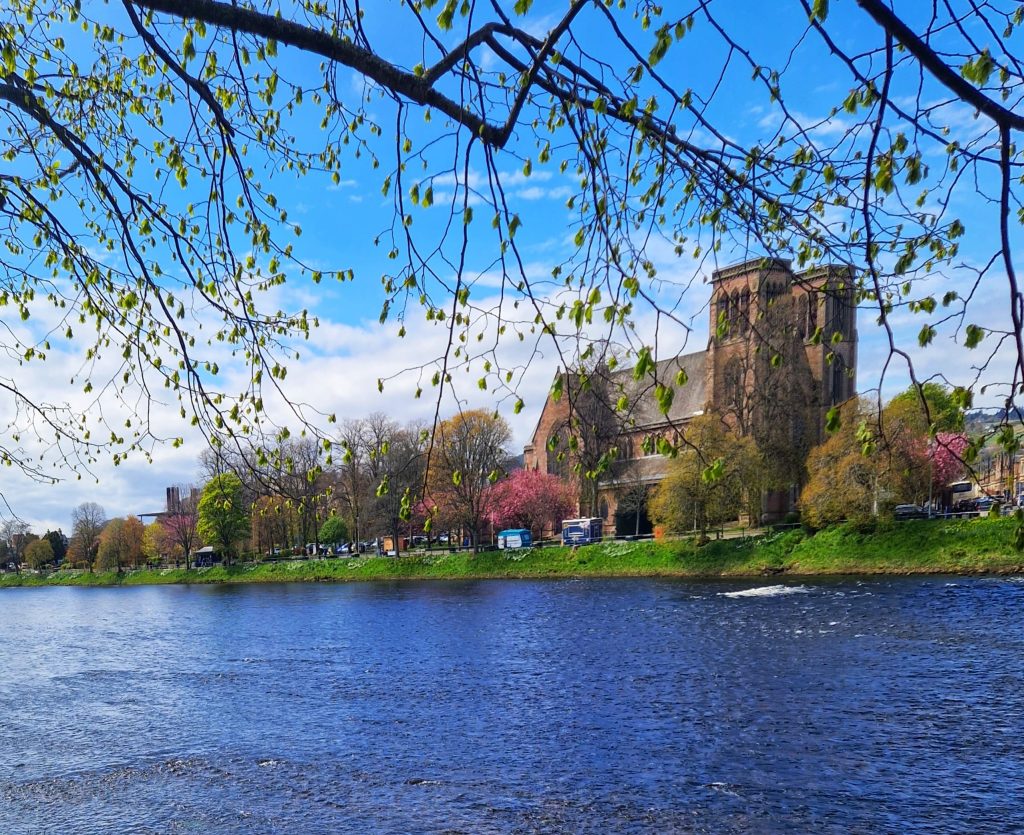 If you're planning to visit Ness Islands, Inverness Castle and Inverness Cathedral then why not take part in a walking tour? They are ran daily at 11:30 and 17:30 and costs £14 per person to see some incredible sights. Also, if you're travelling solo you'll have people that will take photos for you too!
Just outside of Inverness is the famous Loch Ness where the Loch Ness Monster lives. The monster has apparently been sighted over 1100 times!! If you go you might see Nessie for yourself! There are plenty of tours that will take you on a boat trip for Nessie spotting. If you don't get to see her though, it's not a waste of a journey because you'll be looking at a Loch that holds more water in it than all the English and Welsh lakes put together! Believe us when we say it is a sight to behold and this is one of the best things to do in Inverness.
Loch Ness is a little way outside of Inverness City Centre so if you're not driving then you will need to find a way to get there. You can take the number 16 bus from Inverness Bus Station, Farraline Park. Make sure you check the bus times so that you don't miss the last one back! It is common to cycle to Loch Ness too but if the weather is not on your side, you will definitely need to make sure you bring a rain jacket. You can also get a taxi but especially if you're travelling solo, this may not be the cheapest option for you.
Alternatively, there are a plethora of affordable guided tours that you can take part in. Some of which will stop at Loch Ness and Urquhart Castle if that is also on your list to visit. We've linked a few different options below for you so that you can see what will be easier for you.
It's a beautiful day out and if you're self-guiding then you can also go hillwalking up the glen or some of the Munros. If you like to get out walking, spotting mythical monsters or love exploring nature then we would definitely recommend a visit!
Landmark Adventures
Landmark Adventures is a great place to visit for families. It is located just outside of Inverness in Carrbridge but it is easily accessible from Inverness. There is a number of attractions at the park including Dinosaur Kingdom, Networx (an aerial net challenge only open on weekends), Lost Labyrinth, WonderWood. The list goes on and on. It is recommended as well to head up the 105 steps to The Forest Tower and get 360 views of the surrounding area!
It costs £15 per adult for entry and £13 per child. Under 3's are free entry and Toddlers are £10 but you will have access to the entire park! If you don't have a car then you can either take the bus or get a train to Carrbridge. The Stagecoach bus takes around 43 minutes and you can jump on either the X37, 37 or the 39. It is worth checking the availability on their website in advance. Alternatively, you can get the train which will take around 27 minutes. This would be the quickest option especially if you're staying in one of the accommodation we recommended above as they are located near the train station.
Inverness Botanic Gardens
The Botanic Gardens a great unique thing to do when visiting Inverness. You can wander your way around the Tropical House, Cactus House, The Gardens and so learn more about their GROW Project. The gardens are completely free to enter and are open 7 days a week.
The Victorian Market
This is one of the things that you can't miss when you're visiting Inverness. If you don't want to spend any money then this is a great place to wander round, snapping some great shots for Instagram. There is a food court inside which serves some amazing meals and snacks. The building itself dates back to 1890 and you will marvel at the architecture. You can look out for markings where the old fish merchants used to sharpen their knives on the sandstone! As the Victorian Market is up and coming, they also host a range of live music events.
Clava Cairns
The Clava Cairns is around 4,000 years old making it one of Scotland's most prehistoric sites! You can learn more about the cemeteries of the Bronze Age and why it was such an important place during this era. They are very well-preserved Cairns that have a plethora of history to be discovered. This is also one of the filming locations of Outlander so is a great spot to visit!
It is located just outside of Inverness just past the east of Culloden Battlefield. It can take around 17 minutes to get there if you're driving. If you're not driving then one of the best options is to hire some bikes. Alternatively you can get a public bus to the Culloden Battlefield and walk to the Cairns. You will need to get the number 2 bus from the city centre. If you're planning to visit the battlefield too then it is worth heading out early as you may be in for a little bit of a long day if you want to spend a good amount of time there!
When you're spending the day at Culloden Battlefield and Clava Cairns, there are plenty of different walks to enjoy around this area. Take some time to see the infamous Highland Coos in Inverness whilst you're at it for an added highlight to your trip!
If you're planning to visit Clava Cairns, Culloden Battlefield and Loch Ness then it may be worth checking out a guided tour that groups all of this together!
Final Tips
Inverness is a very beautiful place to visit no matter what time of year. If you are planning to in the winter then we will say you'll need a big winter jacket. You will find loads to do and keep you busy. Many people we have met have moved to inverness after the came up for a visit so we think that says it all. If you're planning on visiting somewhere in Scotland then make sure that Inverness is at the top of your list!
Already visited Inverness? Why don't you try visiting Edinburgh? As we live here, we have lots of articles to help guide you around the city. Subscribe now for your Ultimate FREE Guide to Edinburgh that will tell you absolutely everything you need to know!
Love, Amy & Liam x
Save This For Later