Harry Potter Cocktail Making Edinburgh
DISCLOSURE: This post may contain affiliate links. We only recommend products that we truly feel will bring value to our audience. If you click on a link and make a purchase, we may receive a small commission at no extra cost to you. These commissions go towards improving our blog and creating a better experience for you. We really appreciate your support!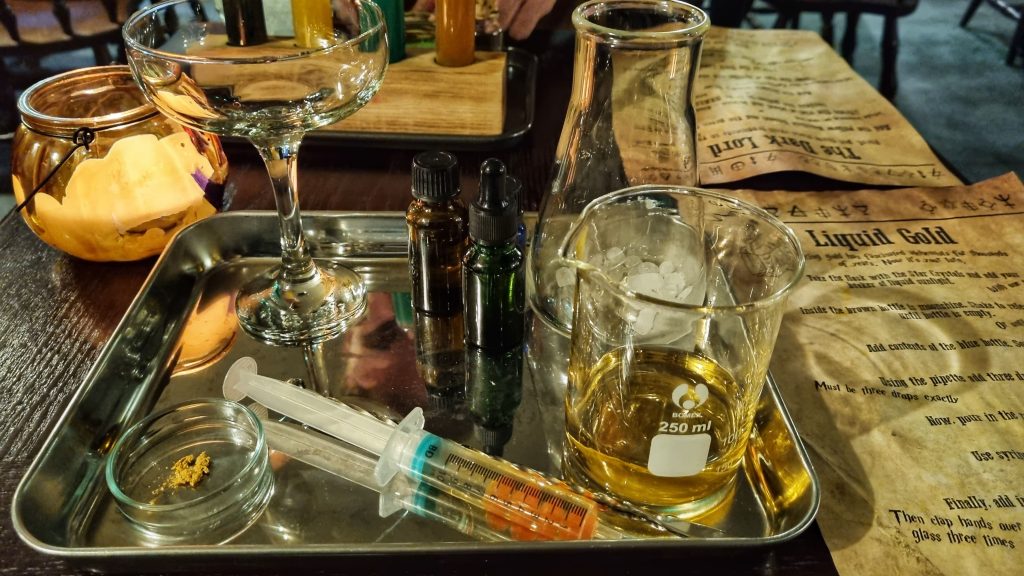 If you love Harry Potter then you definitely need to try the Escape Room & Cocktail Making experience in Edinburgh. Edinburgh absolutely screams Harry Potter all the way from the gothic vibe of the streets making you feel like you're in Diagon Alley all the way up to finding the cafes where J.K Rowling wrote some of her books.
Of course, in a real-life Diagon Alley, you're going to find a dedicated Harry Potter Escape Room & the cocktails were a bonus! The Escape Room & Cocktail Experiences are ran by the Department of Magic and are suitable for couples or families.
Table of Contents
Harry Potter Escape Room
The Escape Room won't test your knowledge on Harry Potter. Even if you're not a fan you can still partake and enjoy it just as much. It is really good to take kids too because they will be able to help out with the puzzles. Whereas some of the other escape rooms you come across are not always kid friendly.
You will have a fun-filled hour with magic, puzzles and a little bit of role-play. One bit of advice that we will give you is to not over-think the escape room. Remember that kids can play it too so it's not always as complicated as you first think!
The Escape Room really is good fun and we have to admit that we were definitely overthinking things so we ended up not completing it. Please let us know if you completed it because we love to know how foolish we have really been!
Harry Potter Cocktail Making Experience
If you're visiting the Escape Room in Edinburgh then you NEED to partake in the Harry Potter Cocktail Making experience too. It has the best themed cocktails in Edinburgh. After the Escape Room, you can chill out in the tavern and if you've already booked the cocktail experience you can decide what drinks you would like. We loved how the cocktails came with fun syringes, vials and themed glasses. You really felt like you were making potions in Snape's classroom (RIP Alan Rickman).
We would recommend booking both the Escape Room and the Cocktail Making experience in advance. They can get booked up pretty quickly! We opted for the Magical Potions and Smoking Shots for 2 and it was so worth it. The shots came out in a treasure box filled with dry ice and it was a magical experience.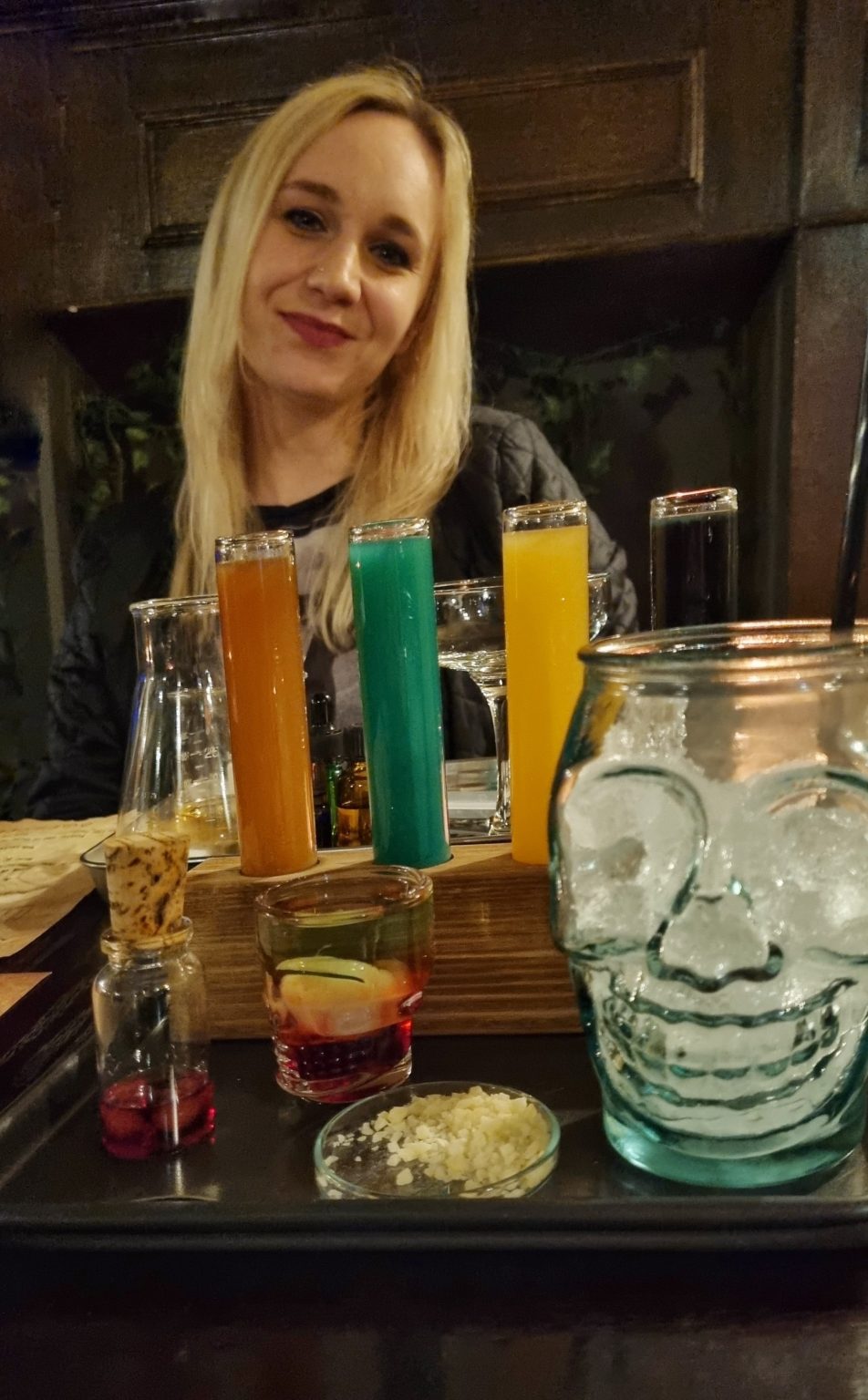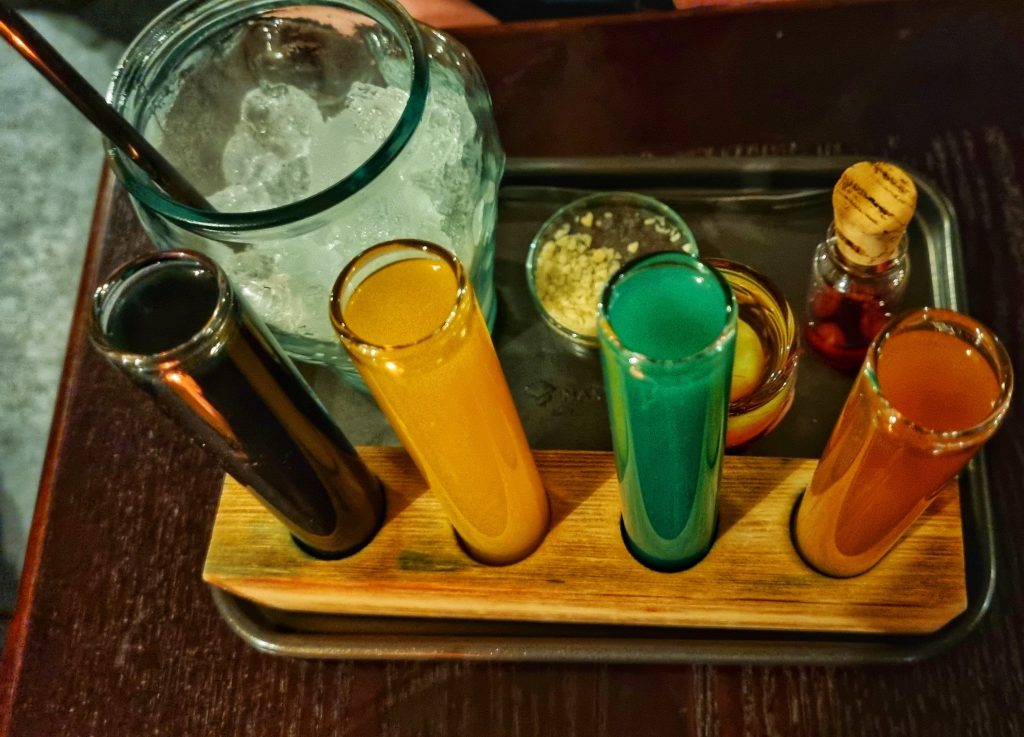 Making the Cocktails
We opted for the Magical Potions and Smoking Shots for 2 and it was so worth it. The shots came out in a treasure box filled with dry ice and it was a magical experience. Each cocktail comes with a recipe that you need to follow. It is great fun for you to channel your inner witch or wizard. We got to try the Liquid Gold, The Dark Lord & some alcoholic homemade Butterbeer. In our opinion, the Butterbeer was better than the one you get at Harry Potter World (and less expensive!). All of these were incredibly tasty. We can't wait to go back again and try our hand at making some of the other Harry Potter cocktails. Next time we may give the escape room a miss though as that is clearly not our forte!
We hope you enjoyed our Harry Potter cocktail making adventure. If you visit Edinburgh and have spare time then this is a must! You may also want to check out Arthur's Seat & Holyrood Park.
Visiting Edinburgh to check out the Harry Potter locations? Well, you're in luck! We have a guide just here for you! Subscribe to our newsletter and you will receive a FREE Ultimate Guide to Edinburgh with all the Harry Potter Locations included.
Love, Amy & Liam x