DISCLOSURE: This post may contain affiliate links. We only recommend products that we truly feel will bring value to our audience. If you click on a link and make a purchase, we may receive a small commission at no extra cost to you. These commissions go towards improving our blog and creating a better experience for you. We really appreciate your support!
Greece is such a romantic country as it is and Kos is no exception as there are plenty of romantic spots across the island to cosy up with your partner. In our opinion, Kos is one of the most romantic islands that you can visit in Greece. However, we may be a little bit biased as we've visited quite a few times and also got engaged there! This does mean that you've come to the right places for tips on the island though. We've become somewhat of experts now!
Imagine sipping a cocktail, enjoying some tzatziki with beautiful views of the sun setting on the island. That is exactly what is waiting for you when you visit Kos with plenty of adventure too. We've broken it down to romantic areas that you can visit across the island from restaurants to viewpoints. We've even the best beaches for a romantic date.
Table of Contents
Romantic Restaurants
There are plenty of restaurants across the island but it can be hard to know if you can expect a romantic vibe when you arrive. Kos is a good destination to travel to for couples. You and your partner also don't want to be walking around aimlessly trying to find the perfect restaurant for you. Don't worry, we've got you covered and you'll find great food and beautiful vibes at these restaurants.
Mavromatis
This is a beautiful affordable restaurant. You can sit on the beach whilst you eat your meal watching the sun set. One of the things that we love the most about this restaurant is that the waiters are absolutely incredible and can't do enough for you. It makes the night that little bit more relaxing and carefree as you don't need to worry about a thing. As it is such a romantic setting, there is not much more you can ask for during your time in Kos.
The food is also incredible and we would really recommend trying their seafood marinara. Be warned that the portions are massive so not only will you get quality but also quantity too. Enjoy your time sipping cocktails with your loved one watching the sunset set with a gorgeous meal in front of you.
Broadway
This isn't as well-known restaurant amongst tourists within Kos but it is definitely one that you should be visiting. Whilst Broadway doesn't serve traditional food, the thing that we love the most is that it is Greek fusion food. The restaurant gives you the impression that it will be very expensive but the perfect place for a date night. One of those statements is correct! It is definitely the perfect place for a romantic meal with your partner. Also, for the quality of food that is delivered, it is incredibly affordable. They tend to keep their menu fresh from year to year and locally source as many ingredients as possible. If you're not too full after your dinner then you can both share an incredible reverse apple pie. What could be more romantic?
Lofaki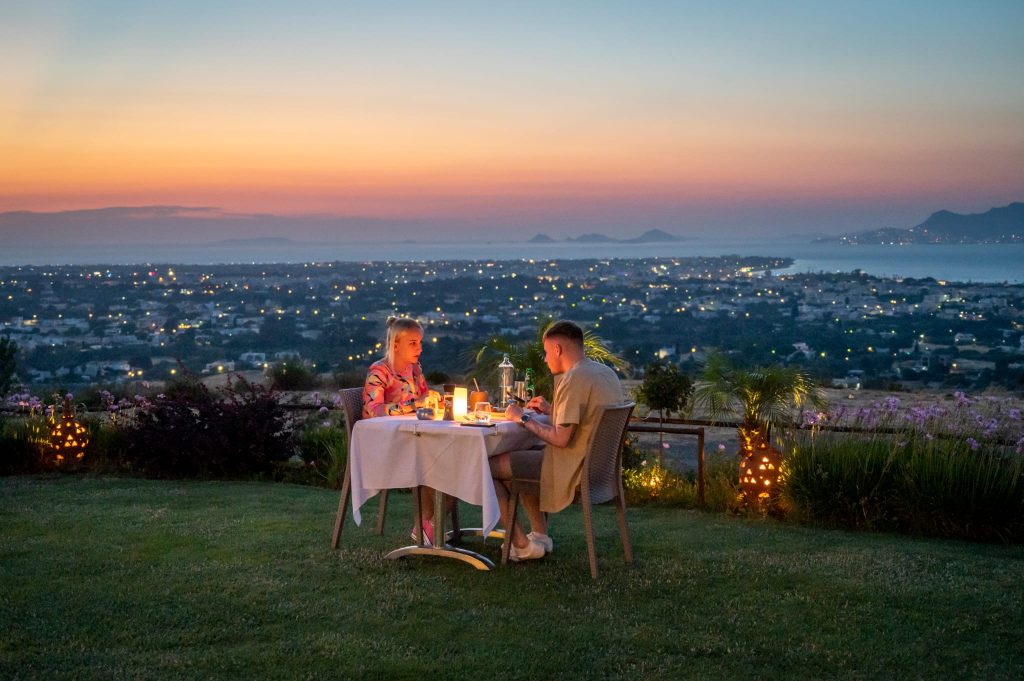 Lofaki is a another restaurant that is not as well-know to tourists that tend to visit Xia instead. This restaurant is also located in the hills with gorgeous views across the island. If you're looking to propose to your partner whilst in Kos then the is definitely the perfect place to do so. The food is exquisite and with such a chilled romantic vibe, you will be in paradise. If you're planning to visit Lofaki then it would be best to arrange for a taxi to take you there and back unless you're renting a car. We've actually written a whole article about our experience in Lofaki which gives you our honest review of this restaurant. Not just that but the panoramic views are to die for that it is the perfect romantic spot.
Viewpoints
There are some incredible viewpoints across the island. After visiting most of them, we wanted to share with you our favourites. One of the most romantic things you can do on the island is spend some time at these viewpoints. Imagine enjoying a couple of drinks and watching the world go by.
Lofaki
We had to include Lofaki on both our viewpoints and restaurants list because it has it all. Not only does it have incredible food but the views are insane. Even if you decide to go to the restaurant during the day and spend some time drinking some cocktails in their garden area. This will give you time to appreciate the views and each other at the same time. It is a great place to enjoy each other's company and because it is such a chilled atmosphere, it feels as though it is quite intimate too which we absolutely love.
Mylotopi
Mylotopi is a small village within Kefalos that has so much charm and character for you and your partner to enjoy together. One of the things that we love the most is not just the views but also the cute windmill within the village. You will be able to walk around together enjoying the scenery and the cobbled streets of the village whilst experiencing a more traditional side of Kos island.
This is also a great area for any couples that have interest in history as it is located a couple meters from the fully functional windmill and the village itself is full in tradition and antiquity. Together, you and your partner will get to enjoy some stunning views and step into Kos' history in a more traditional location.
Xia
Even though Xia isn't as quiet and intimate as Lofaki due to it being a popular attraction, it is still a gorgeous area to visit. You will be able to enjoy a beautiful meal at one of the restaurants at Xia with some stunning views as the sun sets. What we also love about Xia is that there are plenty of cute little shops that you can potter around together hand in hand. Imagine strolling through some cobbled streets with some panoramic views of the island! Perfect!
The Top of Mount Dikaios
This is a perfect viewpoint for our more active travel couples because it will definitely involve a little bit of hiking. Once you get to the top of Mount Dikaios, you will be astounded by the views across the island. Mount Dikaios is generally an easy hike so that is always good news when you're visiting during the hot season. On a clear day, you will even be able to see the heart shaped salt lake in Tigaki. This is an ultimate romantic activity to do together as once you arrive at the top of the mountain, you will be able to appreciate that this is a hike that you done together and enjoy the beautiful views as an achievement.
Exploring
There are plenty of things to do whilst you're visiting Kos island. We wanted to share with you the most romantic places to wander together. As we are wanderlusters ourselves, it can become all too easy to get swept up in the exploration. Sometimes you forget to also take this opportunity to build on your romance.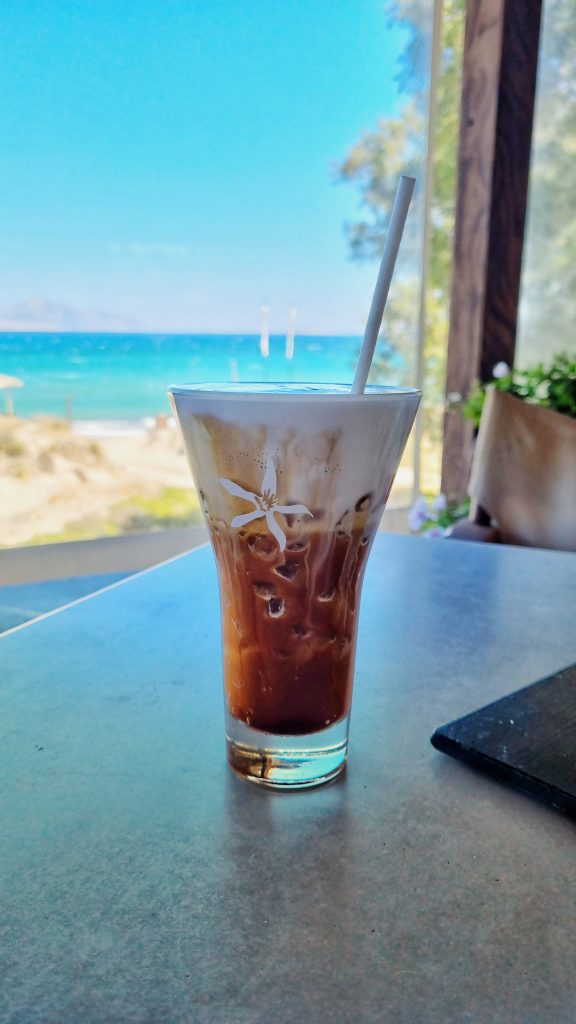 Plaka Forest
This is an incredible place to visit whilst you're on the island. It is a beautiful forest to stroll through together and watch some of the peacocks. Plaka forest is not as well-known to tourists as it is out of the way from other tourist attractions. The forest is incredibly calming and the perfect spot to enjoy placid vibes together. You will find this haven near the small village of Antimachia close to Kefalos. It is the perfect place to step into nature and take a romantic picnic for you both to enjoy. For any animal lovers, you will also find that that there will sometimes be a cat rescue located here. This charity does incredible work with the cats from the island. They always appreciate a donation to help them continue their work.
Eleftherias Square
If you have already had a wander around Kos' Old Town then there is no doubt about it that you've stumbled into Eleftherias Square already. This is a great place to have a romantic stroll and enjoy a couple of drinks whilst people-watching. There is a quirky little market located in the square. You can browse different creams, souvenirs and even plenty of spices if you want to take a little bit of the Greek cuisine home with you. Sometimes you will find that there will be live music in the square. This is the perfect opportunity to spend some quality time together and enjoy the music that may be a little different than your usual taste. Kos is truly a romantic destination for a couple's holiday and this is one of the best settings to experience this.
Kos Waterfront
The waterfront itself is very romantic and taking a stroll along here will definitely spark something in you both. Why not grab a traditional Greek coffee whilst you wander along the water? It is a beautiful sight to watch the boats and enjoy the lights twinkling. There are plenty of benches along the waterfront as well so you can stop and maybe enjoy some crepes and a coffee. It is also great for any of our budget travellers as well as you don't need much money to enjoy some romantic time together.
3-Island Cruise
For any of our travellers that are keen to see as much as they can whilst they're on holiday, this is the best excursion you can do. You will be taken out on the boat to 3 different islands where you will get to enjoy some relaxation in between. Normally you are usually taken to Kalymnos which is a cute little island and amazing to wander around together hand in hand.
You will find lots of quirky little stalls selling souvenirs and get to enjoy the beach. One of the islands is also usually Pserimos which is a great place to enjoy some fresh fish and some little tavernas. Sometimes the boat will also take you to a third island where you will be able to jump off the boat if you wish and go snorkelling. This is so much fun and one of our favourite things to do for couples in Kos. This is the ultimate romantic excursion as you get to spend so much quality time together by relaxing, trying new experiences and enjoying the beautiful sights of the islands.
Beaches
Kos has plenty of beaches on the island that are worth going to. The beaches within Kos island are so beautiful and truly romantic spots to enjoy the crystal blue water just waiting for you.
Therma Beach
If you're looking to have a relaxing holiday then Therma beach is definitely where you will need to head. It's made up of plenty of rock pools. When the water from the sea meets them, they create a beautiful warm bath. It is also thought that the waters have healing powers for skin conditions. This is the perfect way to relax and enjoy the gorgeous warm water together.
Tam Tam Beach
Tam Tam is easily our favourite beach. Simply, because it is a lot less touristy than most of the others on the island. The beach has beautiful golden sand. It is the perfect place to relax whilst enjoying some vitamin C and the sea too! There is a small taverna where you will be able to enjoy a great lunch for when you want to have a break from the sun.
You will also find a quirky little shop where there are plenty of boutique and handmade souvenirs. This beach is a gorgeous little haven away from the tourist hustle and bustle. It will leave you to enjoy quality time together in the sun.
Agios Stefanos
This is another beautiful beach with golden sand and even better views! Whilst you're sunbathing together, you will find remains of old Christian temples in the distance. It is a beautiful backdrop to this already gorgeous beach. One of the most romantic things you can do at this is beach is rent a pedalo together and enjoy the sparkling blue water. This beach is great for anyone that loves idealistic views, soft sand and relaxing in the sun together.
There are so many great things to do in Kos that will keep you occupied. Kos is an incredibly romantic Greek island with plenty of things to do together. These destinations are our favourite spots to spark more romance in our relationship and spend some quality time together. Kos island is a magical place to explore and holiday as a couple. We hope that you enjoy it as much as we do! We even got engaged at Lofaki because it truly is a special place. There's a reason why we return there every couple of years.
Love Amy & Liam x