21 Tips and Tricks For Flying in Ultimate Comfort
DISCLOSURE: This post may contain affiliate links. We only recommend products that we truly feel will bring value to our audience. If you click on a link and make a purchase, we may receive a small commission at no extra cost to you. These commissions go towards improving our blog and creating a better experience for you. We really appreciate your support!
If you're travelling for the first time or looking to find some new tips and tricks for flying to that next destination then you've come to the right place. Once you've travelled a few times, you soon start to learn what to be prepared for and what you wish you had with you the last time you caught a flight. These tips will help you to learn how to make a long flight more comfortable and plenty of hacks for those long plane journeys too. Let's be honest, when you forget something once that you needed, you'll be more likely to remember it the next time. We're here to save you the hassle and introduce to you all the tricks we use to make flights swifter, more comfortable and almost enjoyable.
When you speak to different people, they all have their own little hack for how they survive plane journeys comfortably. We wanted to share with you not just tips for keeping you comfortable on the flight but also little tricks we've learnt along the way to save time and make the whole airport process a lot easier.
Wear a Money Belt
One of our favourite tips is to wear a money belt at the airport. Whilst they're not the most stylish fashion accessories, they are certainly handy to keep your valuables together and safe. When you're checking in for your flight and boarding the plane, it makes finding things much easier. With a money belt, you won't have to keep rooting through your bag to find the items you use the most!
Keep Travel Documents Together
Following on from purchasing a money belt, it is also really handy to keep your important travel documents together. This will not only make your life much easier and save you worrying about losing things but it will also speed up the airport process. When you're queuing for the gates or check in, having your documents altogether saves so much time. Not just that but the staff for the airline will really appreciate you having yourself organised.
Check Baggage Restrictions
Before you fly anywhere, always make sure that you check your airline's requirements. The last thing you want to do is go to board the plane and be charged additional money because your baggage doesn't meet the requirements. Also some airlines are stricter than others with certain things that you can take on board. Even if you've travelled 100 times, it is still worth carefully reading through the baggage restrictions to prevent issues and save yourself time.
Liquids in a Plastic Bag
Most airports require you to have all your liquids under 100ml and in a clear plastic bag when going through security. This is only for any liquids that you want to take in your personal item or carry on. If you've checked your luggage then there is no limit on the size of the liquid you can take. Before going to the airport, get yourself a small ziploc bag and make sure all your liquids fit in there. You can use this at the airport and then before going through security just transfer them to one of their bags if you need to.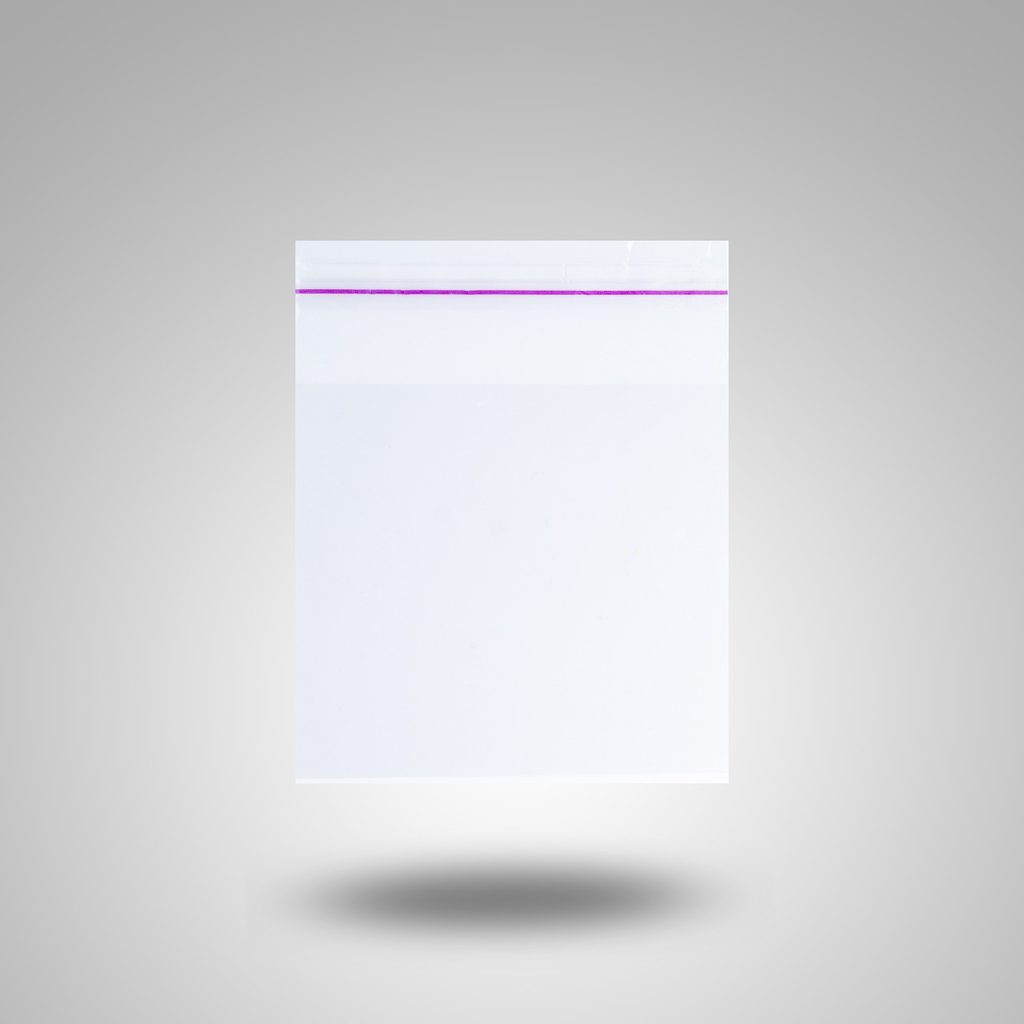 You will only really need to swap them to one of the airport bags if yours is not clear and the same size. Whenever we go to the airport, we actually pick up additional bags for the next time that we travel. It will save you so much time and everyone else too! There is nothing worse than waiting in line for security and there is someone holding up the queue because they haven't come prepared or taken too many liquids.
Unpack Electronics in the Queue For Security
Following on from that, try to get yourself organised for security at the airport as much as possible. Whilst you're waiting in the queue for security, take out your bag of liquids and start unpacking items that need to be out of your bags such as laptops, cameras etc. This will save you so much time and the security will really appreciate it. There are too many people that stand around at security not certain what they are doing even though there are signs everywhere! Get yourself prepared and organised. The quicker you get through security, the quicker you can find a Wetherspoons and get a drink in your hand! It is your holiday after all!
Wear Comfortable Clothes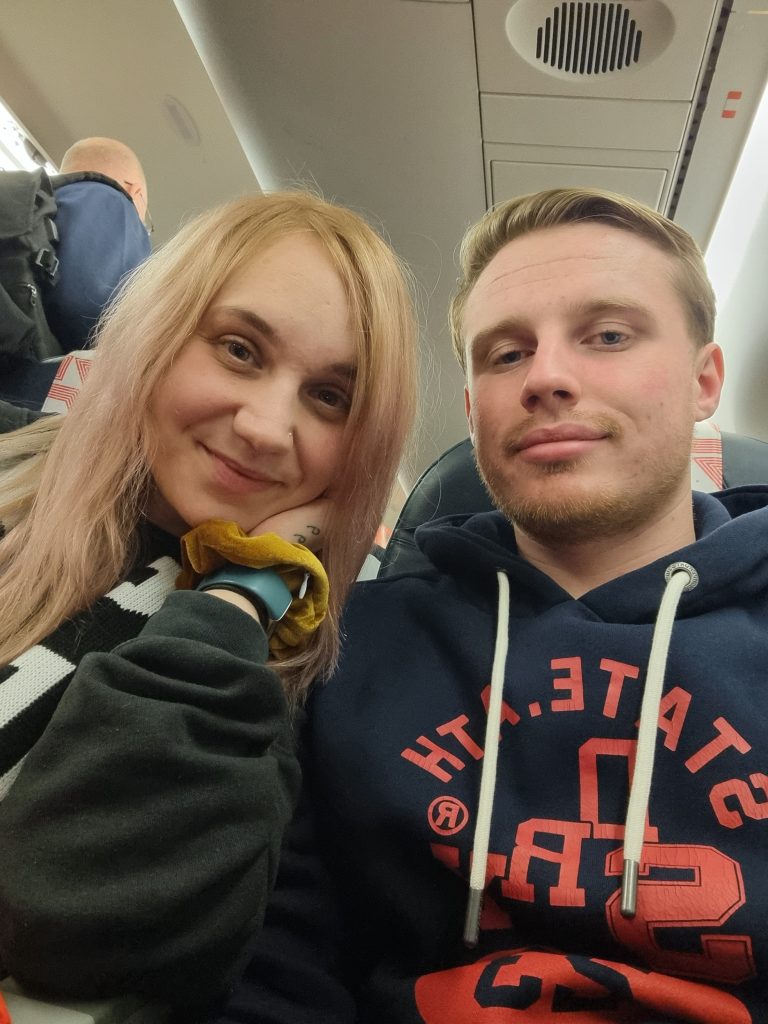 When you're at the airport, you may want to dress your best in order to get all those amazing photos for your Instagram. However, looking your best doesn't mean that you have to sacrifice on comfort. When you're spending so much time at the airport and sitting on the plane, you need to be comfortable. Generally, we both wear tracksuit bottoms and a jumper on the plane because comfort is key!
Wear a Jumper or Something Warm
It gets pretty cold on the airplane so make sure that you wear something warm! We cannot tell you how many people we have seen on the plane that are shivering because they've dressed for the destination that they're going to and not for the destination they're leaving or the airplane. Same goes for when you're on the flight back too! Often people will dress for the hot temperatures of the country they're leaving but forget that it might be pretty chilly when they return home. Take a jumper or even a puffy jacket if you can. Even if you're too warm on the plane, they're always great to use as a pillow!
Bring Fluffy Socks
Especially for long-haul flights, you can thank us later for this one! When you're on the plane, your feet will often swell. Bring a pair of fluffy socks with you to change into when your feet start to get uncomfortable. Not just that but they're great for warming yourself up too when the plane starts to get a bit chilly.
Pack Your Bags Strategically
When it comes to packing your bags you will want to think about when you're on the plane. The last thing you want to do is be scrambling around looking for things. Try to plan what you're going to need and when so that you have easy access to everything! We try to keep documents either in a money belt or in a separate zip. Any tablets, pens, or small items go into the small zip for easy access and then try to organise the rest of your items in the main compartment. If you're also travelling with a carry on then try to keep just clothes and items you will need in this bag so that you won't need to get it down during the flight!
Download Movies & Music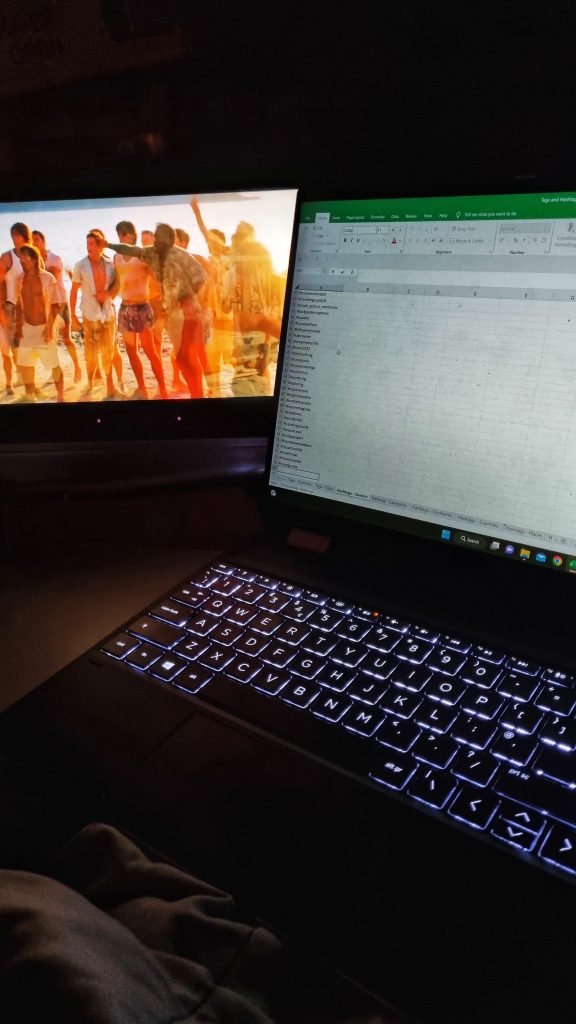 Before you leave your house, try to download some movies, programmes and music on your phone beforehand. The WiFi at airports are often not too bad but you don't want to rely on this just in case it isn't working. Make sure that you have plenty of things downloaded for the flight to keep yourself entertained.
Don't Forget Your Headphones
Off the back of this, make sure that you pack some headphones in your bag! Headphones are one of the most important things to have with you during a flight in order to keep you sane. If you're on the plane for long periods of time then you will need to make sure that you keep yourself entertained. As we said in the tip before, make sure that you get everything downloaded before you leave your home to guarantee that you've got this sorted.
Battery Pack
With all these movies and music that you're going to want to watch during the flight, you want to ensure that your phone is charged for when you get to the destination. You can easily purchase a good battery pack from Amazon that will last you. Not just that but battery packs are great for whilst you're travelling around. When you're off out exploring places and taking photos, your battery will start to become low very quickly so it's always handy to have this with you. We've popped a link below for the battery pack that we use and recommend.
Bring a Refillable Water Bottle
To save yourself money, make sure that you bring a refillable water bottle with you to the airport. You will not be able to bring any liquid in it through security so make sure you empty it before you get to this point. Once you are through security, you will be able to get this refilled. Most airports now have drinking fountains where you will be able to fill up your water bottle. Alternatively, some cafes may allow you to fill it up using their tap water for free. These bottles also prevent leaks too so that your bottle doesn't accidentally open in your bag and get everything soaking.
Pack a Moisturiser
After a while, you will find your skin drying out on the flight due to the air-conditioning. Make sure that you drink plenty of water and pack a moisturiser so that you can keep your skin nice and hydrated. Especially when you're on a long-haul flight, this is one of the ways to help you get through the flight. If your skin starts drying out it can get a little uncomfortable after a while. Trust us, packing a small moisturiser really does help make you feel more comfortable throughout the flight.
Come Prepared with Sweets & Snacks
When you're on a flight for a long time, you will find yourself getting a little bit bored. This is where sweets and snacks come in handy so that you can pick at different food. Equally, the food on the airplane is usually very expensive so use these tips and tricks to avoid paying these prices by bringing your own. On long-haul flights, meals are often included but you will still find yourself feeling a bit peckish so this helps to ensure that you're covered for food the entire flight.
Adjust Your Watch
Once you take off for your flight, adjust your watch to show the time in the destination that you're flying to. This will help you get accustomed to the new time zone and you can try and schedule your naps to get ready for the country you're landing in.
Use the Toilet Before Getting on the Plane
This might seem like an obvious tip for flying but it is easy how swept up in the hustle and bustle you can get. Before boarding the flight, make sure that you use the restroom beforehand. When you get on the plane, there will be a little bit of time before you will be able to use the toilet again. Prepare yourself by using it before you get on the flight so that you're not feeling uncomfortable.
Neck Pillow
For us personally, we're not a big fan of neck pillows but for many people, they find a lot of comfort from using one. They are great to take on flights and be able to lean your head and rest your neck whilst you're trying to have a nap. Try to avoid buying them at the airport because they can be expensive. You can often purchase these neck pillows a lot cheaper at local shops or online.
Nicotine mints for smokers
If you're a smoker, being on a flight for a long time can start to become a little bit uncomfortable. You haven't been able to smoke on flights for a very long time so you need to ensure that you have a back up plan. For Amy, she is quite happy to use nicotine mints and find that these get her through the flights. It doesn't quite replace a cigarette or vape but will prevent you craving nicotine and feeling stir crazy. Often people also use patches as well to curve the craving. Make sure that you come prepared if you're a smoking to prevent you feeling uncomfortable!
Have a Back-up Plan
No matter how many times you've been travelling, things can always go wrong so its important to prepare yourself in case they do. Before you travel make sure that you have a back-up plan for if your flight is cancelled as you don't want to be left stuck and not knowing what your options are! Also, check out the airport online and see where the facilities are in case you need to get somewhere in an emergency. For example, check out where the lost luggage section is, if there is a smoking area and an information centre.
Prepare For Landing
When the plan begins to land, start getting your items organised and packed away. This will save you time scrambling with everyone else once the plane has touched the ground and it is time to disembark. The moment the plane has stopped, everyone will start getting up, rushing out of their seats and pushing to get off the flight. By already having your items prepared you can get yourself up and out of there as soon as possible without having to try and fight your way through to get your items out of overhead lockers.'
If you're flying for the first time or haven't been on an airplane for a little while then there are lots of small hacks you can implement for maximum comfort. Flying isn't the most enjoyable experience but hopefully these tips and tricks will help you be prepared to make the time much more relaxing. If you're new to the travel world then make sure that you check out our packing lists so that you know what to take with you!
Comment below what your favourite tip for flying is. It might just make someone's day much easier!
Love, Amy & Liam x
DISCLOSURE: This post may contain affiliate links. We only recommend products that we truly feel will bring value to our audience. If you click on a link and make a…