Essential Travel Adaptors
DISCLOSURE: This post may contain affiliate links. We only recommend products that we truly feel will bring value to our audience. If you click on a link and make a purchase, we may receive a small commission at no extra cost to you. These commissions go towards improving our blog and creating a better experience for you. We really appreciate your support!
When you go travelling, it can be difficult to know what kind of adaptor you need in advance. Every single blog and website has the type of plug you will need but we have compiled a guide of the essential travel adaptors that shows which one you need for the country you're visiting. This will detail what the plug looks like, how much they cost, where you can buy them from and a list of countries that you can use them in! These are really useful for when you need to buy a specific adaptor perhaps for one trip. However, you can purchase multi-adaptors to make this much easier. South East Asia Backpacker details some of the best ones you can buy!
Type A
You can typically find a Type A plug for £6.99 and it can be used in the following countries:
North America
Central America
Japan
Type B
Type B (3-pins) plugs cost around £5.99 and you can use them in the following countries:
North America
China
Japan
Type C
Type C (Europlugs) usually cost around £4.99 or a little less depending on where you order it from. It is one of the most essential travel adaptors for Europe because there are only a few countries that don't use these so it is definitely worth investing in one of these. They can be used in the following areas:
Europe (excluding UK, Ireland, Cyprus & Malta)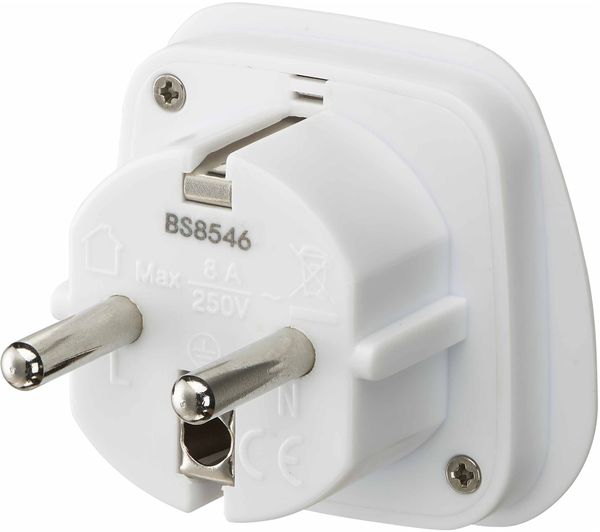 Type D
These adaptors are online for around £7.99 but you should also be able to use Type C for these plugs. They are mainly used in the following:
India
Nepal
Type E
These plugs are mostly found in Europe and you can purchase an adaptor for around £2.99 or so. They are used in countries such as:
Belgium
France
Czech Republic
Greece
Italy
Poland
Slovakia
and many more. You can find a full list here!
Type F
Type C and F plugs are very similar and are very common in Europe. You can get these for around £2.99 and you can generally use them in the following countries:
Eastern Europe
Jordan
South Korea
Indonesia
Thailand
Turkey
Uruguay
Vietnam
Type G
These plugs are very familiar to us because they are the ones we use at home. They can cost around £4.00 – £8.00 and can be used in the following countries:
England / Scotland / Wales / Ireland
Cyprus
Malta
Malaysia
Singapore
Hong Kong
Type H
These adaptors are little more expensive than the other ones we have listed and are also used in the least amount of countries. They can be used instead of Type C in some cases. They range in price from between £7.99 – £9.99 and can be used in the following countries:
Israel
Gaza
Type I
This is another expensive plug adaptor but it is more common than the previous plug adaptor type. These adaptors cost between £7.00 – £14.99. These are the countries that mostly use them:
Australia
New Zealand
Papua New Guinea
Argentina
Type J
These are specific plug adaptors that are mostly used in Switzerland but can be found in other countries too. These adaptors can cost between £6.99 – £14.99 and can also be found in the following countries:
Switzerland
El Salvador
Jordan
Liechtenstein
Madagascar
Maldives
Rwanda
Type K
Most people call this the Denmark plug and it is also compatible with Type C plug adaptors. They can range in price from between £3.99 – £9.99 and are used in the following countries:
Denmark
Bangladesh
Faroe Islands
Greenland
Guinea
Madagasgar
Maldives
St. Vincent and the Grenadines
Senegal
Type L
Also known as the Italian plug, Type L is usually for Italy but they are useful in a range of other countries too. You can purchase them from between £5.99 – £12.99. They can be found in the following destinations:
Italy
Canary Islands
Chile
Cuba
El Salvador
Eritrea
Maldives
San Marino
Syria
Uruguay
Type M
These are specific adaptors that are not compatible with other types. They can cost around £4.50 – £9.85 you can use them in the following locations:
South Africa
India
Lesotho
Mozambique
Nambia
Nepal
Sri Lanka
Swaziland
Type N
This is the last adaptor on our list and is also compatible with Type C adaptors too. It costs around £4.99 – £9.99. You can use these adaptors in the following 2 locations:
Brazil
South Africa
We hope that this article has helped clarify what type of plug that you'll need on your trip. Each destination that we have listed on our website will show which type of travel adaptors that are essential for your trip. Make sure you check out our tips and tricks page for more useful travel information!
Love Amy & Liam x