New York City Tourist Attractions Top 7
DISCLOSURE: This post may contain affiliate links. We only recommend products that we truly feel will bring value to our audience. If you click on a link and make a purchase, we may receive a small commission at no extra cost to you. These commissions go towards improving our blog and creating a better experience for you. We really appreciate your support!
With so much to do in New York City, we've narrowed down the top 7 tourist attractions that you need to visit especially if it's your first time in the city. NYC is an incredible city, there is a reason that there are so many songs written about it. Speaking of which, there are around 161 songs sung about the city making it the most in the world!
If you've found this article then you are probably thinking "what should I do on my first trip to New York?" If you're a first timer to NYC then you need to be prepared that it is a very quick paced, busy city. You will easily get wrapped up in the hustle and bustle of New York in no time. You need the patience of a Saint for crossing the roads too! As a couple from the UK, we are not used to having to wait at pedestrian crossings. In the UK, we just cross over the road the second there are no cars whereas in NYC you definitely need to wait, the drivers are very impatient. It's true what you see on TV with all the yellow cabs beeping their horns impatiently trying to get through the chaos of traffic.
The one thing you need to know about visiting any tourist attraction in New York City is to be prepared for long wait times. There are so many cool experiences in NYC that you want to be able to take advantage of as many as possible. The best thing to do is to plan in advance as much as possible. We purchased Go City passes which enabled us to visit a number of attractions over the course of 4 days. They were such a good idea to save money as we totalled up the prices of all the attractions we went to and we would have spent far more if we hadn't got the Go City Passes. Some of the attractions also include a skip the queue as well so we found that we also saved time using them!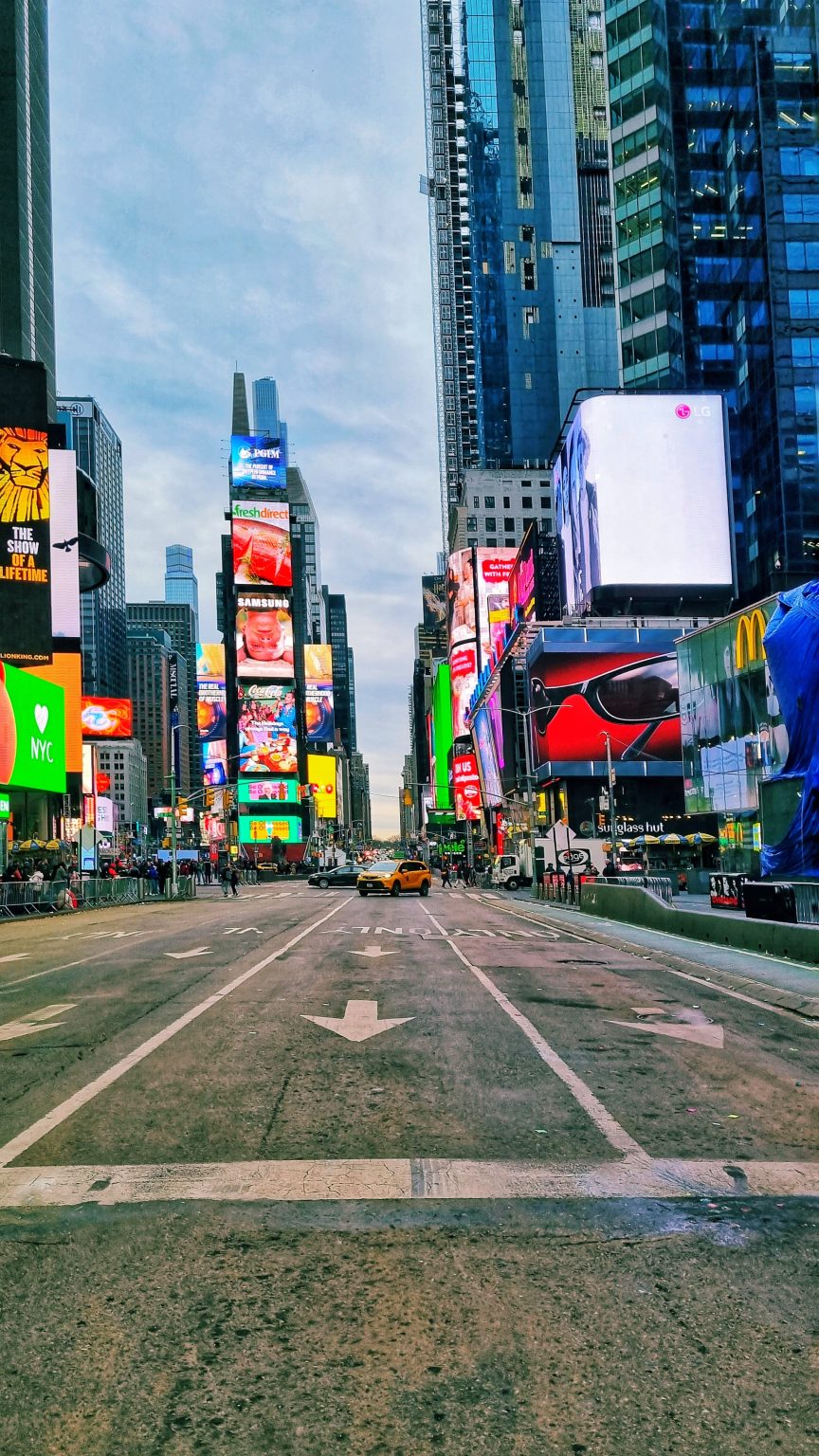 The Edge
Located in Hudson Yard, you will find a super stylish shopping mall. On the top of this sits an outside sky deck, The Edge, where you can get beautiful views across the city. You will be able to look down through a glass floor and see the world moving below you. You will ride an elevator up 100 stories and be able to get some amazing Instagram photos of the city's skyline. This is one of the best things to do in New York! There are a lot of different places to visit where you can get city views but this was by far our favourite one!
Whilst you're waiting to ascend to the top, you will be taken through an informative museum explaining more about the area and the history behind Hudson Yard. We won't leave any spoilers but the Edge is really worth the visit and you will be in the perfect location to explore Hudson Yard's vessel. The architecture of this will absolutely blow you away especially after you learn more about it at the Edge.
If you're feeling brave enough, you can also organise a climb up the skyscraper for $185. This also includes a complimentary video of you scaling the building and a medal to celebrate your incredible achievement of making it to the top!
We were really glad that we purchased the Go City 4 Day Pass because when we arrived, we were put in a fast track queue so this saved us a lot of time. This then enabled us more time to fit in an extra attraction this day. If you are planning to visit The Edge but have not purchased the Go City passes then make sure that you book this online. The prices are more expensive if you pay for the experience at the attraction and you also won't be able to guarantee a timeslot either. If you're visiting during sunset then you will expect to pay an extra $10 on ticket price during this time period.
Prices
Adult (online) – $40 / Child (online) – $35 / Senior (online) – $38
Adult (on site) – $42 / Child (on site) – $37 / Senior (on site) – $40
Opening Times
Open between 10:00am – 10:00pm everyday. You will find that the last elevator ride up to The Edge is 50 minutes before closing.
Location
Located on Level 4 of The Shops & Restaurants at Hudson Yards
Central Park
Central Park is easily one of the most famous areas of New York City and you could spend all day here! If you're wanting to escape the concrete jungle then Central Park is the perfect place to immerse yourself into a bit of nature again. The park is underestimated for how large it really is so before you visit, make sure that you check out which areas of the park you'd like to visit. We done our own version of a Gossip Girl tour so we headed to a few of the locations to see some of the sights.
There are plenty of maps that you can find on Central Park's website which will show you all the different areas that you can visit.
The park hosts a number of events throughout the year so make sure that you check their calendar before visiting so that you don't miss anything! There are so many different areas of Central Park that have been used for filming in popular films and TV Shows and even used for inspiration too. You may be familiar with the popular children's film Madagascar. Even though no actual filming took place within the park, the films reiterates many times that it is set within Central Park Zoo. That's right, if you didn't know, the park even has its very own zoo! Other popular films that have been filmed in the park include Maid in Manhattan, Ghostbusters, When Harry Met Sally, The Avengers, 27 Dresses, Enchanted and not to forget popular TV show Gossip Girl!
There is plenty to do within Central Park and you can easily dedicate more than a whole day here! No matter what time of year you're visiting, you will find plenty of things to do. Planning to visit during the winter? Read the best things to do in Central Park during the winter here.
If you are planning a trip to Central Park, as tempting as it may be, please don't pay for the horse and carriage rides. The horses are treated terribly and by paying for this experience you will be helping to endorse and continue this treatment. We never really thought about it before we visited Central Park but once we arrived, you could see how depressed the horses looked. After quick research online, it is very clear that they are not treated well at all and its very sad to see. Don't let this dishearten you though because the park is very beautiful and there is so much to do.
Opening Times
06:00am – 01:00am
Location
Central Park stretches from 59th Street to 110th Street, between Fifth Avenue and Central Park West.
Times Square
How can you visit New York without going to Times Square? It is one of the most iconic places in the city and perfect for getting those Instagrammable shots. Like everywhere else in New York, you will find that it is very busy so learning to take photographs with lots of people walking past is an absolute must!
Times Square is one of the most popular places to spend New Years Eve. This is not something we actually experienced ourselves as after researching online we found that we didn't want to be in the street standing all evening. However, it is where you go to see the ball drop and you will find that the atmosphere is absolutely buzzing!
Around the square, you will also find plenty of street performers, people dressed up as famous characters like The Avengers, Mickey Mouse and Batman. There is a charge to take a photo with any of the characters so just be mindful if you're not expecting to pay any money for something like this. The street performers are awesome to watch but make sure that you leave them a tip at the end!
Madame Tussauds
Madame Tussauds isn't something that either of us expected to enjoy. We've both been to London a number of times and never really had any desire to visit the museum there. However, as the attraction was included in our Go City Pass, we decided to give it a go. It was one of the latest opening attractions on the pass and we wanted to do something late in the evening so we thought why not?! It ended up being one of our best experiences in New York City.
We absolutely loved it! We had such a good laugh posing and taking photos with all the different waxworks that we really would recommend. To avoid crowds, we would suggest that it is better to do the same as us and visit late in the evening when everyone has gone to have dinner. This way you will avoid any large crowds and be able to take some awesome photos for IG!
It really is incredible how much detail goes into the waxworks and how lifelike they are! Also included with our pass was the Marvel's Universe 4D movie which was a really unique experience. As we are both Marvel fans this was definitely a highlight for us. Liam enjoyed wandering around taking photos with all the different Marvel characters. Amy absolutely loved the horror section getting some creepy videos of Annabelle and IT! It is a good laugh and great fun for families in particular too!
Prices
Admission + Marvel Universe 4D + Carnival Carnage 7D + Digital Photo Pass – $49.99
Admission + Marvel Universe 4D – $43.99
All Inclusive Package – $64.99
Opening Times
Monday – Thursday & Sunday – 10am – 8pm
Friday & Saturday – 10am – 10pm
Location
234 W. 42nd Street New York, NY 10036
Top of the Rock
This is another incredible viewpoint in the Rockefeller Centre with panoramic views across the city. You will take an elevator 70 floors up to experience beautiful views across the city's skyline. If you're visiting more than one observation deck then we would recommend visiting one during the day and another later at night so that you can see the city all lit up!
There are 3 different observation decks including an indoor section on the 67th floor and then an outdoor terrace. You can then climb up further to the 70th floor to get even better view from the open-air deck. The best part about the 70th floor is that it is unobstructed from glass enclosures too so you won't need to worry about any glare or streak marks on your photos.
We absolutely love this observation deck! Especially when you walk in you will marvel at the beauty of the building. There is a beautiful chandelier that sets the aesthetic for the building. Like all attractions within New York, make sure that you book in advance and try to avoid peak times!
Prices
General Admission (Adult) – $40 / (Child) – $34 / (Senior) – $38
Express Pass – $85
VIP Tour – $125
Opening Times
Daily between 9am – 11pm. The last elevator goes up at 10:10pm.
Location
30 Rockefeller Plaza, New York, NY 10112, Enter on 50th Street between Fifth and Sixth Avenues, 212.698.2000
Statue of Liberty
One of the most popular attractions to visit in New York is of course the Statue of Liberty. The statue is a figure that represents US culture and was actually a gift from the people of France. It symbolises the declaration of independence and an icon of freedom. The statue is on Liberty Island so you will be able to take a ferry to the island to see it up close. When you are taking the ferry to the island, you can also visit Ellis Island too. Both of these have museums on the island too and no additional ticket is required to visit them. Make sure that you head up to the Liberty Vista above the Statue of Liberty museum to get some amazing views of the statue and the harbour.
As you can imagine, this is a very popular attraction so prepare for it to be busy with a lot of queues. This is a must do if it is your first time in New York. It is also another attraction that is included with the Go City Pass too which will definitely help save you some money.
To get the ferry to the islands, you will need to get yourself to Battery Park. You can reach the park by subway, car or bus. You can purchase the ferry tickets from Statue City Cruises. Do not buy tickets from any other company as they will not be valid. Alternatively, you can purchase tickets at the booths in Battery Park. However, it is always worth trying to purchase these in advance to prevent waiting in long queues to buy tickets.
It is one of the best things you need to do when visiting New York City as it is one of the biggest symbols of the city!
Prices
Ticket prices can vary depending on time of year, date and time of day. They also offer a variety of admission tickets including general admission, pedestal reserve, Ellis Island hard hat tour and Crown Reserve. They all have different features and upgrades. You can check availability and the type of access you would like by visiting Statue City Cruises' website here!
Opening Times
Times can vary depending on the season. Always double check the website before making any plans to visit the Statue of Liberty. Generally the first ferry departs from the mainland at 9am. The last ferry usually departs from the mainland at 3:30pm and the last ferry leaves Ellis Island at 5:15pm.
Location
Access the ferry to Liberty Island and Ellis Island from Battery Park or Liberty State Park in Jersey City.
-Battery Park – Liberty Island, New York, NY 10004, United States
-1 Audrey Zapp Dr, Jersey City, NJ 07305, United States
Empire State Building
This is another incredibly iconic part of New York City. You can see the Empire State Building very easily as it towers above all the rest of the buildings. It is a 102-storey skyscraper in Midtown Manhattan and is one of the first 100+ storey buildings in the world. The architecture of the building is absolutely phenomenal that you can't help but marvel at its grandeur.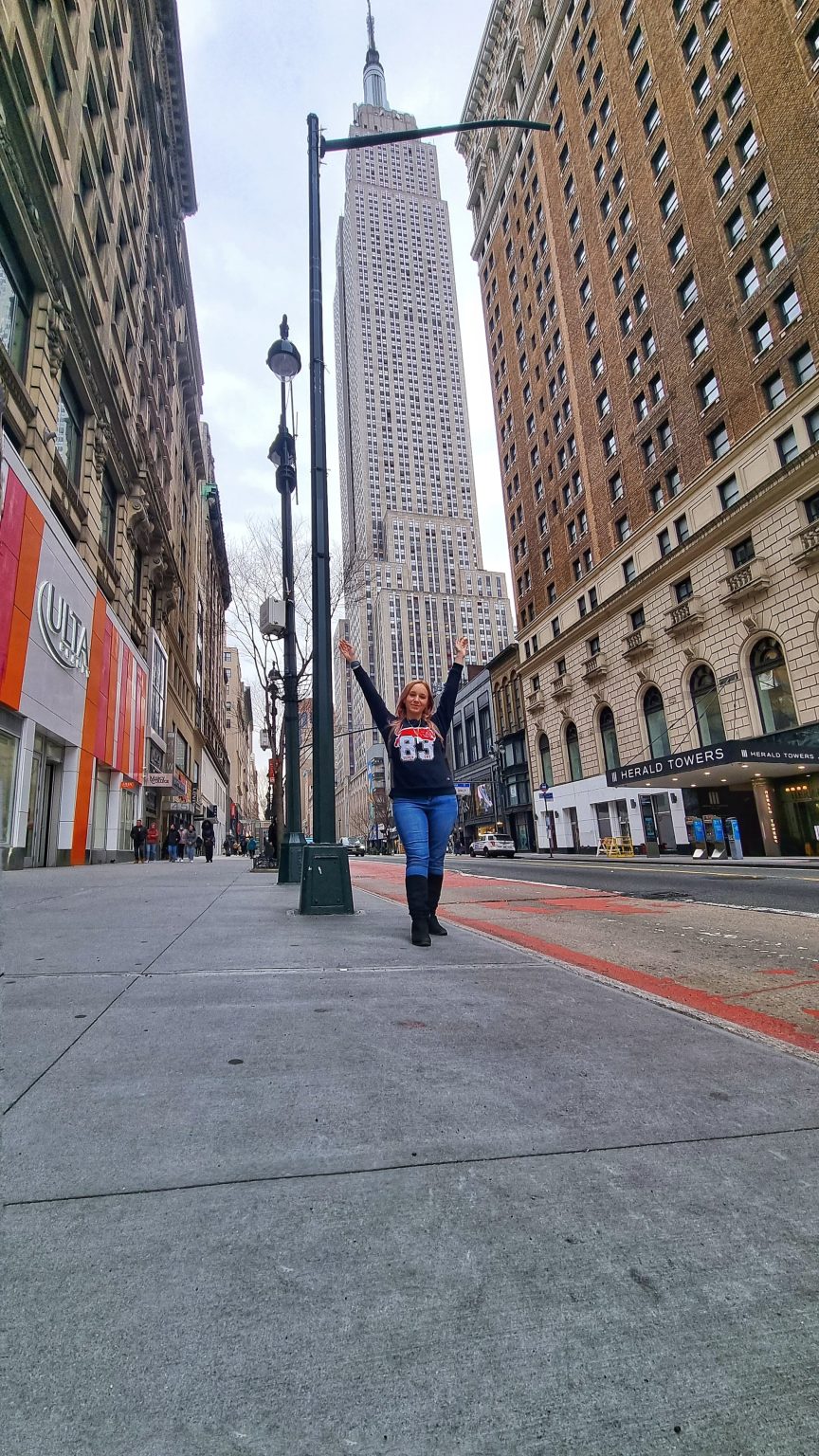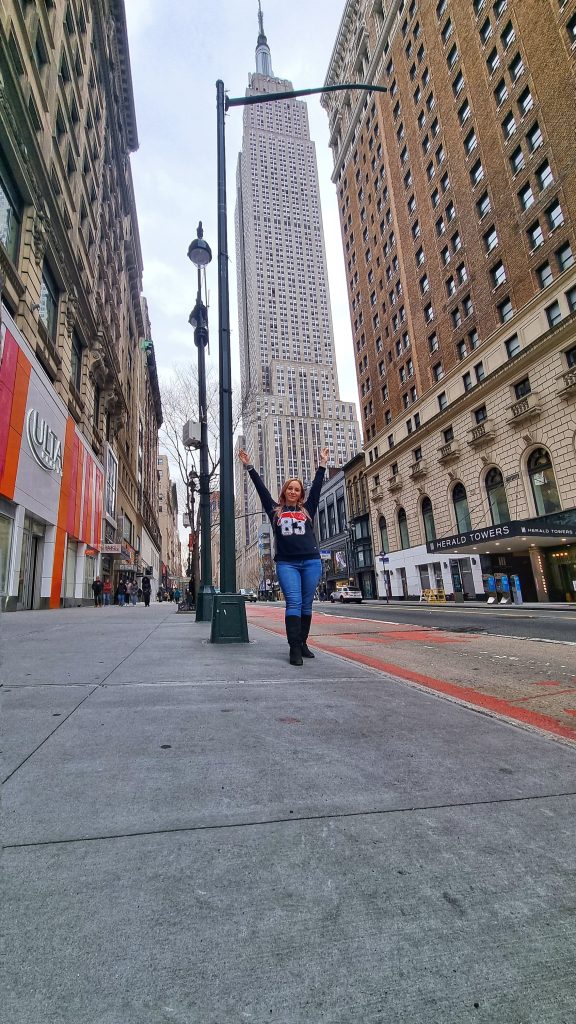 This is of course a very busy attraction so you will need to plan ahead and book in advance. We made the mistake of not checking the weather before visiting! Our views from the building were not the best and yet the queues were still ridiculous. You will walk through a museum about the building and there is even a ride to help you understand what it was like during the construction of the building.
The building is not only famous for its size and creation. It is also famous because of how frequently it is shown in different films and TV shows. It has been in over 250 films alone and is often used to represent romanticism. One of the most popular films that the Empire State Building is featured in is of course King Kong. You can even take pictures and videos with King Kong's hands reaching through as you wander the museum.
Prices
86th Floor – Adult -$44 / Child – $38 / Senior – $42
86th and 102nd Floor – Adult – $79 / Child – $73 / Senior – $77
Opening Times
Daily between 11am – 10pm
Location
Empire State Building, 20 W 34th St., New York, NY 10001, United States
What are you waiting for?
New York is an absolutely incredible city with so much to do. It can be quite expensive at times. This is something that you can expect when you're visiting one of the most famous cities in the world. We've mentioned quite a few times about purchasing Go City passes in advance. This was an absolute game-changer for us because we were able to save quite a lot of money. This enabled us to visit all of the major attractions for a fraction of the cost. We would really recommend purchasing one of these passes before you go as they are great value!
When you're visiting the city, make sure that you're not just visiting the most popular tourist attractions but also stepping off the beaten track. There are so many things that you can do that are a little bit more unique!
Have the most amazing time in New York City and we hope that a breakdown of the top 7 tourist attractions will help you plan your trip. It is truly an incredible city with so much to do. You will find yourself walking down the street and there will be a surprise around every corner.
If you're planning a trip to New York soon then don't forget to check out our packing checklists. This will help you get prepared for your trip! Comment below if we have missed any other major tourist attractions that should be on the list for best things to do in NYC for 2023!
Love, Amy & Liam x