How to Travel with Low Budget
DISCLOSURE: This post may contain affiliate links. We only recommend products that we truly feel will bring value to our audience. If you click on a link and make a purchase, we may receive a small commission at no extra cost to you. These commissions go towards improving our blog and creating a better experience for you. We really appreciate your support!
Travelling is one of the most expensive hobbies that you can have but let's face it, it is also one of the best. For most people, especially during the current climate, it's important to keep costs low. Here we share some of the ways that on how we keep our travel costs low and on a budget when we need to.
1. Use Skyscanner
Most frequent travellers have heard of Skyscanner but for anyone that hasn't, this is one of the most useful tools you can have. On Skyscanner, you are able to search from your chosen airport and search for everywhere so that you can see where is the cheapest destination for you to travel to from your chosen airport. The best thing with Skyscanner is to try to be as flexible with dates as possible. You are also able to search for an entire month so that you can see which day is the cheapest for you to fly. If you choose to pick a flight from here, always double check who you're booking and flying with. Most of the time, direct airlines will come up instead of a 3rd party selling site but it's just something to keep in mind.
2. Sign up for alerts with low-cost airlines like Ryanair, EasyJet and Jet2
Often, companies like Ryanair, EasyJet and Jet2 have flight sales or last-minute breaks so it is well worth getting yourself signed up for their alerts. Ryanair in particular often have flight sales from £4.99. In order to take advantage of these deals, you need to be open to where you might be travelling to and also remember that this will mostly be within Europe. This is one of the best ways to travel when you're on a low budget as long as you do your research.
3. Sign up to travel miles with Virgin Atlantic / KLM / Delta / Air France
This is a new little find for us recently and we have no idea how we didn't find it sooner. If you sign up for Virgin Red, you can earn points through companies that you would use and purchase from anyway such as Dominos, Moonpig and Etsy. These all add up as points which can be transferred to your Virgin Atlantic account. You will then be able to use these points to put towards your next flights.
If you have a Tesco Clubcard, you can also automatically transfer Clubcard Points to Virgin Atlantic Points. You will gain travel points for doing food shopping that you were probably going to do anyway. Companies such as KLM, Delta and Air France are all partnered together. You can claim Virgin Air Miles for most flights when traveling with these companies. The points on Virgin Red can also be used for products from different companies too. If you need some travel accessories or even Virgin Experience Days, this is well worth signing up for!
4. Avoid Additional Airline Charges
Budget airlines love adding additional charges these days so the best way to avoid this is to travel hand luggage only where possible. Make sure that your baggage is the correct side because they are sticklers at the gate for this. If you do upgrade your baggage, double check the sizes again but make sure that it is within weight and you leave a little room in case you need to add anything else. When you're flying on your own, you can save money by not purchasing seats. A smaller tip is that getting food and drink at the airport before you board the flight, purchase earplugs or anything that you need prior to flying. Some of this advice may seem obvious but we thought we go over it anyway just in case you've not travelled much before or are looking for other ways to cut costs.
5. Couchsurfing, Booking.com Genius Discount & Expedia Points
There are so many different websites that offer accommodation that it's difficult to narrow down what is the best price. One of the first things to look at would be booking.com. After you have booked using your account a few times you will be applicable for Genius Discount. This means that some accommodation will be available for cheaper or free upgrades. Also, if you signed up to Virgin Red, then you will also earn points back for each stay. Expedia is another place that is worth looking for accommodation. You are able to collect points and use these back on future stays.
Alternatively, if you're looking for a cheap stay then it may be worth looking into couchsurfing. Locals will offer out their couch or spare room for free or in exchange for some small jobs to be done. Any exchanges such as this will be detailed by the host. We would say, especially if you are a solo female traveller, to stay vigilant when looking to stay with locals. Remember that everyone is not always what they seem and trust your gut feelings. If something doesn't seem right then do not go through with the stay or leave if you're already there. Solo female travellers may find more comfort in staying with other females or families. This is a common way of cheap travel and you will find a lot of people use it. We don't want to scare you but we wanted to leave a word of warning.
6. Hostels
Why is it that hostels have such a bad reputation? Amy stayed in a lot of hostels whilst she was travelling. She only come across a couple that weren't quite up to standards but they weren't exactly bad. Hostels are one of the cheapest ways to stay. We can promise you that Hostelworld will be your best friend if this is your preferred accommodation type. It is also the best way to meet new people! They are incredible when you're on a budget and helps you easily travel more for cheaper. Never stayed in a hostel before or looking for tips to help your stay be more comfortable? Check out guide to hostels for some tips and tricks!
We hope that this helps you travel with a low budget and cut some costs. Are we missing any tips that you think are important for other travellers to know? Let us know by getting in touch on our contact page here.
Love, Amy & Liam x

You May Also Like
27/02/2023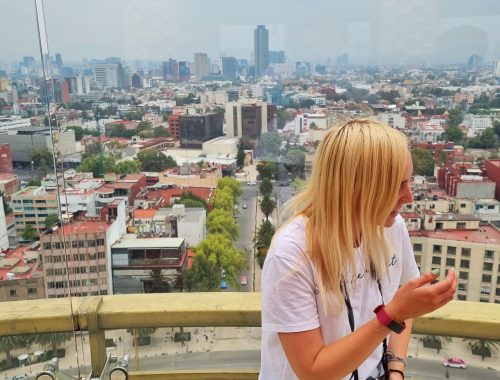 16/03/2023
09/04/2022