Christmas Market Bruges Belgium (2023 Dates & Opening Times)
DISCLOSURE: This post may contain affiliate links. We only recommend products that we truly feel will bring value to our audience. If you click on a link and make a purchase, we may receive a small commission at no extra cost to you. These commissions go towards improving our blog and creating a better experience for you. We really appreciate your support!
With the festive season fast approaching, it's time to start planning your trip to the Christmas Market Bruges Belgium. Belgium is widely know for it's expertise in chocolate so there is no better place to explore the Christmas Markets.
Picture cute small chalets lined in the main square with souvenirs, Christmas decorations, incredible food and of course plenty of chocolate delights.
If Bruges' Christmas markets are on your bucket list for 2023 then look no further. In this guide you will find plenty tips & tricks to get the most out of your festive experience in Belgium.
We will recommend the best way to get to Bruges, information about the 2023 Christmas markets and other things that you can do when visiting Bruges for the day.
How To Get To Bruges
There are many different ways to travel to Bruges from the UK. However, this will depend on how long you also want to spend time in Bruges too.
Most travellers that are planning to visit the Christmas Markets in Bruges from the UK tend to visit just for a day. However, you could easily spend a few days there soaking in the festivities.
Bruges Christmas Market Coach Trips
If you're travelling from the UK to Bruges for a day then there are many coach tours that you can take part in. Depending on where you live in the UK, will depend on the price for these coach tours.

When Amy was living in Ipswich, herself and a friend used Galloway to go to Bruges for a day. It cost approximately £69 per person at the time which was easy and efficient to get there and back.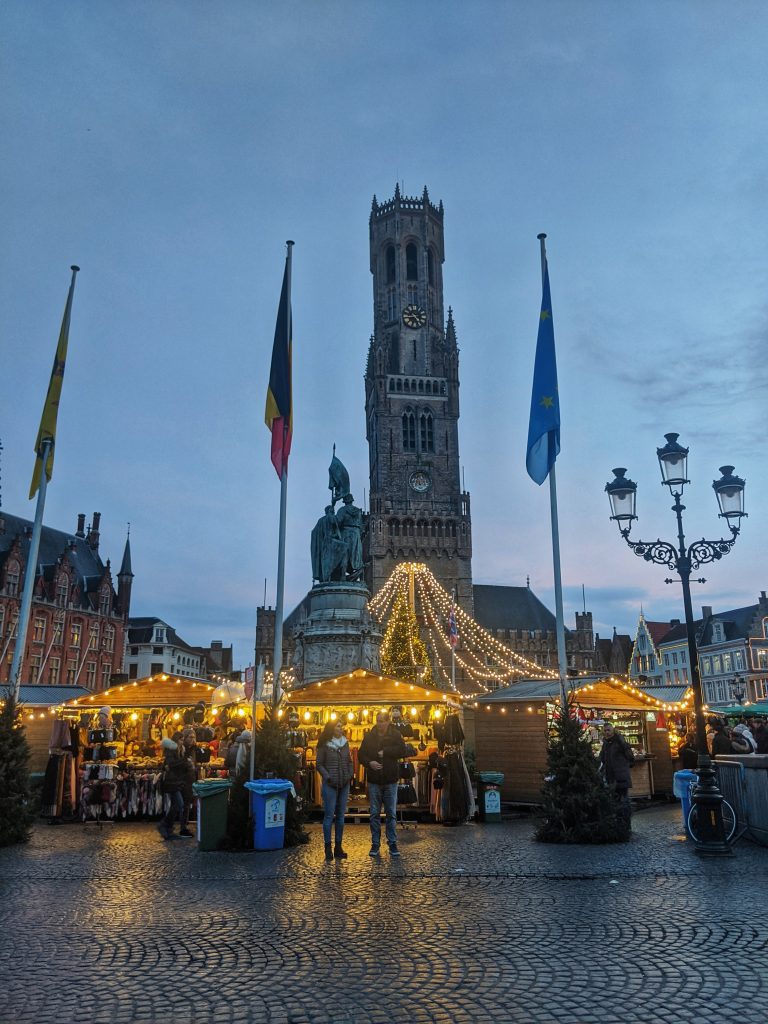 The only downside to the coach trips is that so you can maximise your time in Bruges, you need to leave early hours of the morning.
You will find that Eurolines and Megabus provide frequent trips to Bruges from many different UK Cities. You can also check to see if there are any independent coach companies that offer this trip too.
If you're travelling from London, then there are a lot more options open to you. You will be able to use Flix Bus to find affordable coach tickets to Bruges on the link below.
Train to Bruges
It is also very easy to get a train from the UK into Bruges too. You can do this by getting the Eurostar from London which will take approximately 3 and a half hours.
This is one of the quickest and cheapest ways to get to Bruges. It is also the best option if you're planning to stay in Bruges or even Belgium for more than just one day too.
Not just that but it is also one of the least stressful ways to travel. Once you're on the train, the only thing you need to do is make sure you're getting off at the right stop.
Travelling to Bruges by Car
As the cost of living continues to increase, this may not be the cheapest option for you to get to Bruges. However, if you're planning a little road trip together, it can certainly be a more fun option.
Depending on where you're travelling from within the UK, you may want to stop off at some other major towns to visit their Christmas Markets along the way.
For us, travelling from Edinburgh, it would take approximately 12 hours for us to get there. Therefore, it wouldn't really be worthwhile for us to drive to Bruges unless we were planning on making a few stops along the way.
However, if you're travelling from London to Bruges or even further South then it shouldn't take too long at all. You will need to use the Eurotunnel to travel across to Calais. The Eurotunnel will take approximately 35 minutes and then from Calais, the drive will be around 1 hour and a half.
It will cost between £55 – £270 depending on how long you're planning to stay. You can book tickets directly with the Eurotunnel and we would recommend booking in advance where possible.
Flying to Bruges
There are a few budget airlines that travel to Belgium such as Ryanair and Wizz Air. If you decide to fly then you will be able to get flights that are easily affordable.
As Bruges does not have it's own airport, the easiest way to get there is by taking a flight to Charleroi International Airport. From there, you will be able to take a train to Brussells-Midi and then change over for a direct service to Bruges.
Public transport is quite good within Belgium so you will feel safe and secure during your time there.
Staying In Bruges
If you've decided to spend a few days in Bruges then there are plenty of affordable options for you to stay. For our fellow budget travellers, we would recommend staying at a hostel to keep costs low.
Hostels in Bruges
We recommend St. Christopher's Inn Bauhaus Hostel for when you're staying in Bruges. It is an average price for dorms and also has plenty of amenities for your trip with high ratings.
There are also 2 other hostels that you can look at staying in. Both these hostels are also still highly rated and not too badly priced either.
Hotels in Bruges
The hotels in Bruges can work out a little bit more expensive due to the time of year. As Bruges is very popular for tourists during the winter, you can expect to pay a little more than you would normally.
We've included some recommendations on hotels for your stay in Bruges below. You will be able to find the different prices, ratings and information on each hotel.
Bruges Christmas Market 2023
If you've visiting Bruges in the winter then try to make sure you tie in your trip during the Christmas Markets period.
Bruges winter period tends to be from between November and February. The one thing we will say is prepare yourself for the cold.
It goes without saying but it is truly icy during the winter in Belgium. Bring plenty of warm clothes and wrap up when you're heading out. The good thing about Bruges is that the outdoor restaurants prepare for this with plenty of heaters and blankets for you to wrap up.
Whilst you're walking around the different stalls at the Christmas Markets, you want to ensure that you're warm so that you can truly enjoy it.
When it starts to get a little bit chilly, you can warm yourself up with some velvety hot chocolate from one of the stalls. Alternatively, there are plenty of delicious food stalls to help you warm up.
Bruges Christmas Market Opening Times
The Bruges Christmas Market Dates begin from 24th November 2023 – 07th January 2024.
Unlike most other Christmas Markets, the ones in Bruges you will find are open after Christmas. Most European Christmas Markets tend to close from Christmas Eve. This gives you plenty of opportunity to visit Bruges during the festive season.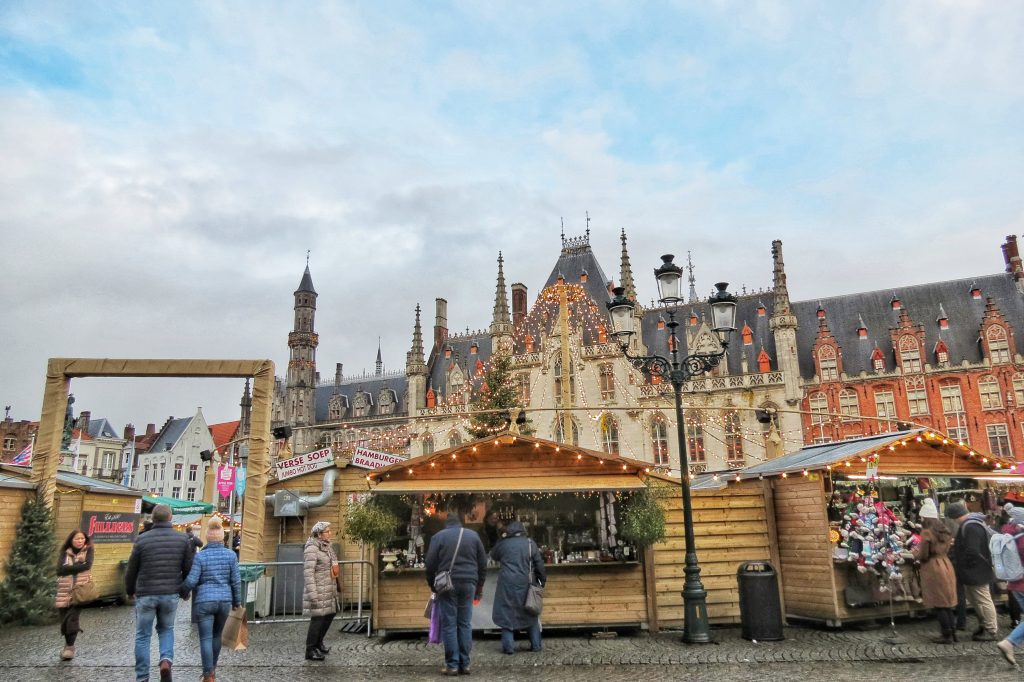 Whilst the markets are closed on Christmas Day itself, there are wide opening times for you to make the most of it.
The Christmas Markets will be open between 11am – 10pm every day except Christmas Eve, Christmas Day and New Years Eve. On Christmas Eve and New Years Eve, the Christmas Markets will close at 7pm. However, on Fridays & Saturdays, the markets will remain open until 11pm to make up for it.
Where Does it Take Place?
There are now two Christmas Markets within Bruges, Belgium for you to enjoy. They are both open during the same periods listed above.
The first Christmas Market you can enjoy in Bruges is located at Simon Stevinplein. This is a beautiful square renowned for its statue of Simon Stevinplein, a Flemish mathematician and physician.
Simon Stevinplein Square is the intersection between the two canals and is commonly known as the heart of Bruges.
The Christmas Markets in this square is quite small where you will find more local businesses. Here you will find plenty of food options and a few rides for children. In previous years, there have been bumper cars and a merry-go-round.
The main Christmas Market in Bruges can be found at Grote Markt, otherwise known as Market Square.
This is where you will find all the action with plenty of stalls selling crafts, Christmas ornaments, souvenirs and gifts. Of course, you will also find plenty of food stalls and pop-up bars for you to enjoy.
Our favourite stops were the waffle stalls and the chocolate fountains. It was absolutely delicious.
Bruges Winter Glow
When you're visiting Bruges during the winter, one of the best things you can do is follow the Winter Glow trail.
There are 10 different light installations around the city creating a unique way to explore. What we love the most about this is that you will visit areas of the city that you otherwise wouldn't usually see.
The light trail takes you on a 2.5km walk around the city where you can marvel at the beauty of the glow. The lights are available between 5pm – midnight for you to follow.
Light installations that are a highlight for 2023 include the 'Story of the Swan', 'Submerged' and 'Cuniculus'. All of which tell a unique story and of course make for great Instagram snaps.
Ice Skating
One of the most festive things that you can do is go ice skating. If you're travelling with your partner then this is the ultimate romantic festive thing to do. Depending on if you can ice-skate that is…
The ice skating rink is set up floating on top of Minnewater Lake, otherwise known as the Lake of Love. Visiting Bruges Christmas Markets is a perfect trip for any couples looking for a romantic day trip during the festive period.
Even if you don't plan on doing any ice skating, it is still worth visiting Minnewater Lake as it is truly a sight to behold. With beautiful twinkling lights and watching everyone have fun on the ice rink with the lake in the background, it is a beautiful view.
After you have enjoyed an ice-skating session, you can head to the winter bar directly opposite to warm up.
It costs 7 euros per person to take part in the ice-skating and children under 3 can skate for free too. As it can get quite busy, it is worth scheduling plenty of time to queue.
Christmas Tree
You can't visit Bruges Christmas Markets without checking out the incredible Christmas tree!
You will find quite a few Christmas trees within Bruges itself but the main attraction can be found in Burg Square. This is just outside city hall and makes for some great photos.
In honesty, the Christmas tree is a bit difficult to miss and the size of it is astounding!
Food Bruges Christmas Market
Whilst you're visiting Bruges, there are plenty of great food options available to you. If you're travelling to Belgium then of course, you NEED to try some proper Belgian chocolate. We absolutely love the seashell chocolates and there are plenty of stalls and shops that sell them by weight too.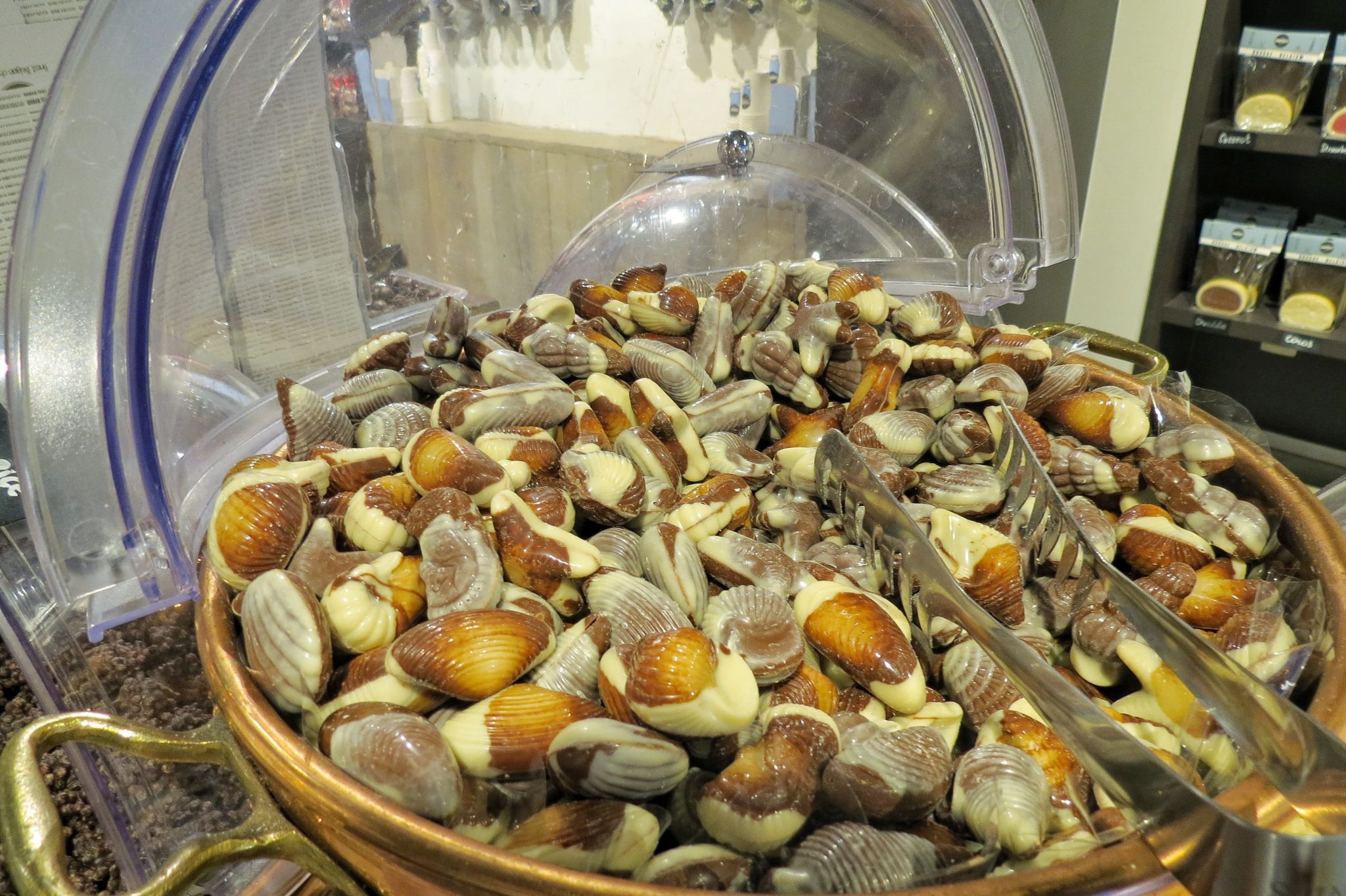 We've created a list below of the different food that you must try whilst you're visiting the Christmas Markets in Bruges. They are all delicious and you will be able to find them either in the markets themselves or the surrounding restaurants.
Waffles – whilst in Bruges, you need to try some fresh waffles. The most popular place to get these are at Chez Albert but you will find plenty of the Christmas Markets selling them too. There are plenty of topping choices so you can top your waffle any way that you want!
Chocolate – wandering around Bruges, you will find plenty of chocolate shops to fill your bags with to take home. You will find many markets stuffed with chocolate delights and some of which you can even sample. Whilst you're in Bruges, be sure to also take a visit to the Old Chocolate House for a delicious treat!
Frites – whilst this dish may look like ordinary fries, that is simply not the case. These fries are soaked in ox fat whilst they cook which gives them a very unique flavour. There is even a museum dedicated to the history of this popular snack.
Moules – you will find that mussels are very common in Bruges. This particular dish is cooked with onions and celery which is often served with frites too. This dish is available in most restaurants and something that you have to try before leaving Belgium.
Jenever – whilst mulled wine is the popular Christmas drink, in Bruges Jenever can be found more frequently. This Dutch gin is made from Juniper berries and is used to be for medicinal purposes. You can still find mulled wine at the stalls but whilst you're in Bruges, make sure that you try this gin too!
Christmas Shopping in Bruges
The main goal of visiting a Christmas Market is to of course get some of your Christmas Shopping completed. Bruges is the perfect place to achieve this very goal!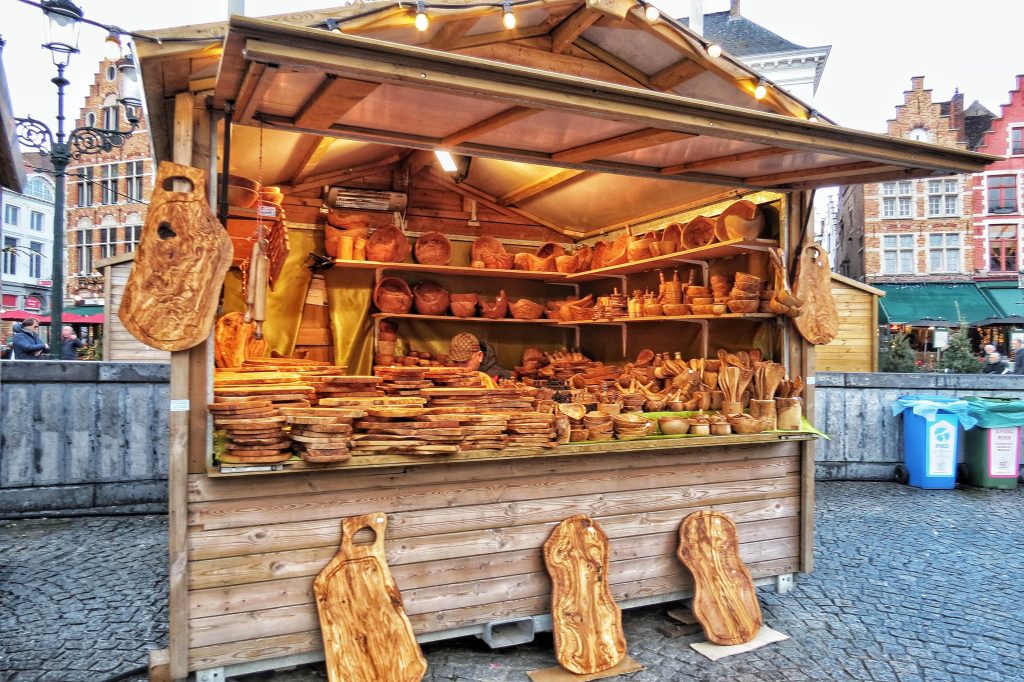 There are plenty of stalls selling a range of wares from ornaments, beer gifts, souvenirs and decorations. Here are some of the best things to look out for whilst you're wandering around the Christmas Markets.
Chocolate – with all this talk about you food, you absolutely have to take some Belgian chocolate home with you.
Christmas Ornaments – there are plenty of different Christmas decorations available for you to buy at the market stalls. From baubles, tinsel, calendars, father Christmas statues to Christmas train sets, there is a lot of choice. One of the things that we like the most about the stalls is that a lot of the ornaments are hand-decorated making them a unique addition to your decorations.
Cheese – there is a vast selection of different cheeses to choose from at the Christmas Markets. Whether it is a gift for yourself or for a loved one, it is the perfect item to look out for!
Windmills – despite windmills having a lot of resonance with the Netherlands, Belgium also has its fair share of windmills in the countryside too. You will be able to find many different hand-painted ceramic windmills at the markets. This is a perfect souvenir to take home and share with a loved one of your time in Bruges.
Tips for Visiting Bruges Christmas Market
–Bring Cash – even though contactless is becoming more and more popular, some of the stalls still only accept cash. Get your euros before leaving home or withdraw from an ATM so that you don't miss out on any of the treats the market has to offer.
– Wrap up warm – we've mentioned already that Bruges can get a little chilly during the festive season. Wrap yourself up in a hat, scarf, gloves and a good thick jacket so that you can enjoy your experience in Bruges.
– Keep an eye on your belongings – whilst Bruges is not typically common for pickpockets, it is still worth taking safety precautions to be sure. In general, pickpockets are common in Europe so keep an eye on your items and never leave anything on display. With travellers coming from all different parts of the world to visit the markets, you can never be sure who has bad intentions.
– Comfy shoes – especially if you're visiting Bruges for one day, you want to be comfortable the whole time. Wear shoes that you can walk around in easily for long periods of time. This way, you will be able to make the most of your limited time in Bruges.
What to do in Bruges for a day
Even if you're visiting Bruges for the Christmas Markets, you may want to explore other areas whilst you're there.
There are plenty things to do in Bruges but to be able to experience the main sights, you will be able to do this in a day trip.
We've created a list of some of the best things to do whilst you're visiting Bruges during the winter. However, some of these sights, you will get to see whilst you're exploring the Christmas Markets too.
Minnewater Lake
If you're visiting Bruges during the Christmas Markets then you will no doubt get to see Minnewater Lake in a completely different way.
The ice-skating rink will be floating on top of the lake which will give you a unique view. Otherwise known as the Lake of Love, Minnewater is a beautiful place to spend some romantic time with your loved one.
Legend says that if you walk along the bridge with your partner then you will be blessed with eternal love. This comes from the myth of Minna and Stromberg.
The view of Minnewater Lake is truly beautiful and is something you absolutely need to do whilst you're in Bruges.
Horse & Carriage Ride
As Bruges is an incredibly romantic city during the festive period, most couples opt to take a horse and carriage ride around the city.
The carriages are usually dressed up with festive red decorations and bows to add to that Christmas spirit. This is a different way for you to see the city together.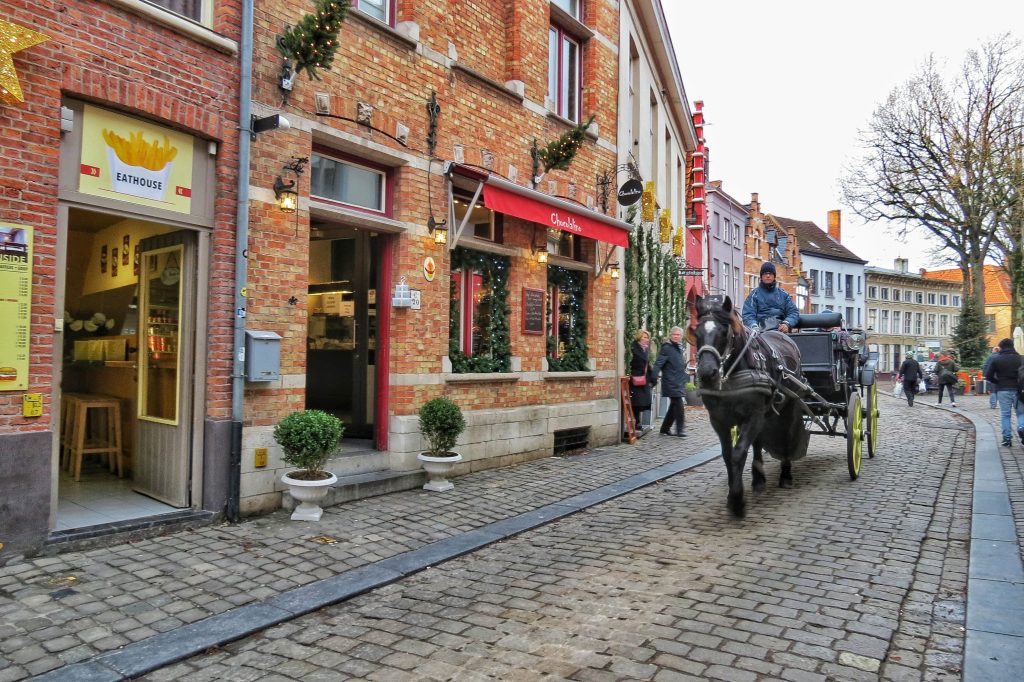 Walking Tour
If your time is limited in Bruges to only one day then the best way to explore is by taking part in a walking tour.
During these tours, you will be taken to the top sights of the city within a few hours. They are really informative and especially great for if you're solo travelling to meet other people.
The walking tour takes a couple of hours where you will visit the Markt, Burg Square, Beer Wall and so much more.
You can also take part in a guided walking and boat tour too. This is a great unique experience as you will also get to spend some time on Minnewater Lake too.
If you're visiting for just one day then we would suggest taking part in the walking, chocolate and beer tasting tour. This way you can hit all the major aspects of Bruges and Belgium.
RECOMMENDED
If you're looking to really enjoy the most of your time in Bruges then we would recommend this tour. You will get to enjoy a wonderful walking tour filled with history, chocolate and beer.
BEST WALKING TOURS IN BRUGES:
Chocolate Tours
If you've got a sweet tooth like us then taking a guided chocolate tour is an absolute MUST.
There are plenty of different tours which will show you how the chocolate is made and have tastings for you to enjoy. In particular, the chocolate museum Choco-Story offers its own workshops.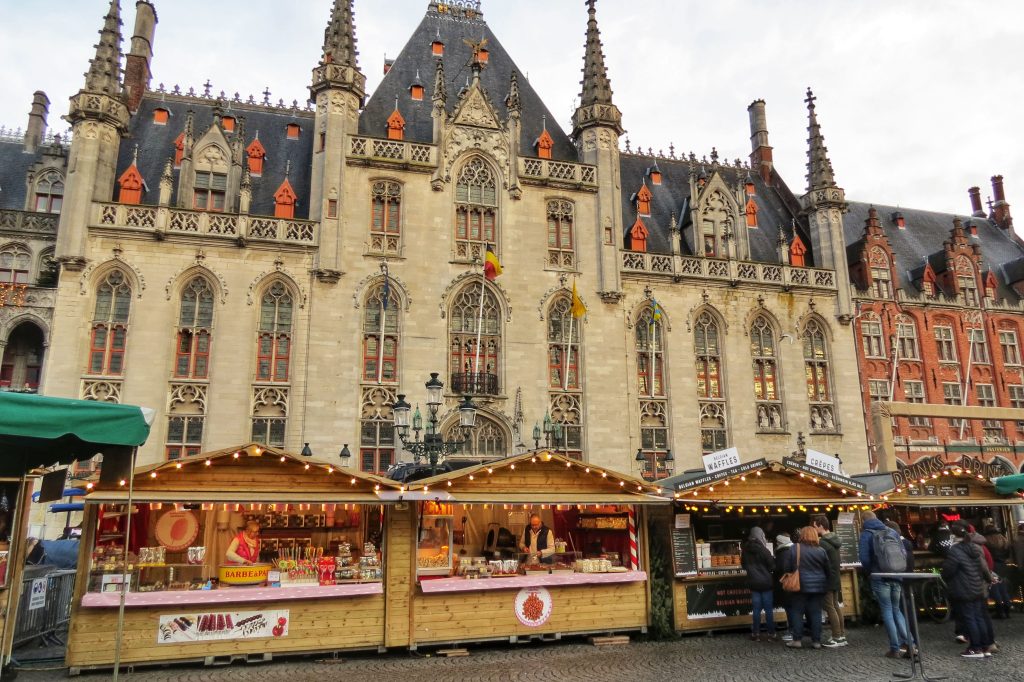 It is really interesting to learn about how chocolate making has evolved over the years from the Aztecs and Ancient Mayans to chocolate as we know it today.
You will also get to learn about how Belgium became famous for its chocolate making within Europe. Of course, there will be plenty of tasting too!
BEST CHOCOLATE TOURS
Food Tours
With so many different foods to try, it can be difficult to know where to start! These food tours are a great way to sample your way through Belgian specialties.
On these tours, you will get to try a range of beers, meat, cheeses, waffles, chocolate and of course the famous Belgian frites.
The best thing about these tours is that you will also get to learn about the background of the food. You will also get to learn about some of the sights on the way.
For any foodies, this is a not-to-be-missed experiences when you're travelling to Bruges in Belgium.
BEST FOOD TOURS
Basilica of the Holy Blood
One of the most famous sights in Bruges is the Basilica of the Holy Blood.
This Romanesque style church is a beauty to behold and it is considered to hold a cloth stained with blood of Jesus Christ. This dates back to 1100's and is a miraculous discovery for religion.
Entrance to the Basilica itself is free but it is worth checking the schedule to ensure that there are no services taking place during your visit. If you're wishing to visit the museum then it will cost 5 euros but is free for any children under 12.
The Basilica and museum are absolutely fascinating and is close to the locals hearts.
Beer Tour
Whilst you're visiting Bruges, a great way to explore the city is through a beer tour. Not only will you quench your thirst with plenty of tastings but you will also get to see the city along the way.
If you're planning to visit for the festive season then beer 'o' clock is applicable any day of the week.
The tours usually last for a couple of hours and gives you information on the city, the local beer and how it is made.
We've shared some of our favourite beer tasting tours below for you to choose from.
BEST FOOD TOURS
Visiting Bruges Christmas Markets 2023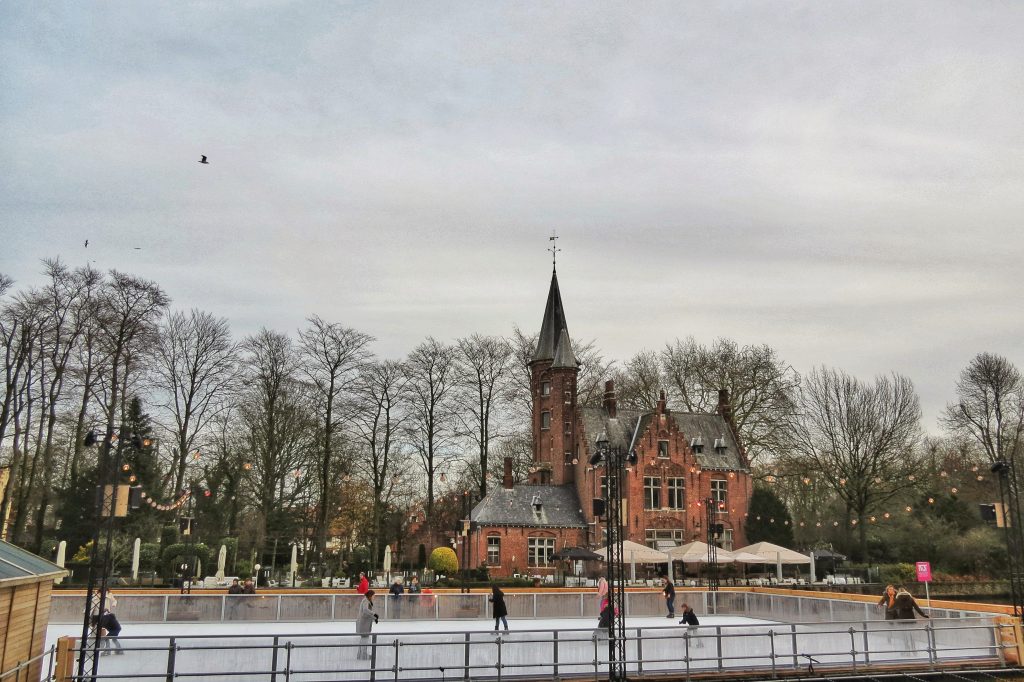 Bruges is a beautiful city within Belgium with plenty to offer during the festive period. Most travellers will only visit for the day so make the most of your time by enjoying the Christmas Markets in Bruges and exploring some of the city.
Make sure to bring back many souvenirs and chocolates from the city. It will certainly help towards getting your Christmas Shopping finished and enjoying yourself at the same time!
Plan Your Trip to Bruges
Did you know that when you book an activity or accommodation through our links that we receive commission at no extra cost you? This helps us to continue to provide helpful guides on Plain2Plane and so we can make travel mistakes so you don't have to!
Christmas Markets Bruges Belgium FAQS
When do Christmas Markets Start in Bruges?
The Christmas Markets in Bruges begin from the 24th November 2023 – 07th January 2024.
Other than being closed on Christmas Day, there are large opening hours. This gives tourists plenty of opportunity to visit the markets even after Christmas.
Is Bruges Christmas Markets expensive?
Generally speaking, prices inflate over the Christmas period no matter where you visit. The prices for the Christmas Markets in Bruges are generally quite average.
You can expect to spend between 3-4 euros for a local beer. This is a pretty average price and can vary depending on the stalls that you visit.
Is Bruges Christmas Market Worth it?
It is 100% worth visiting the Christmas Markets in Bruges, Belgium. There are plenty of different markets for you to visit and even more tasty food to try whilst you're at it.
Even if you just spend an hour or two at the Christmas Markets, Bruges has plenty to offer for anyone visiting for a day or two.