DISCLOSURE: This post may contain affiliate links. We only recommend products that we truly feel will bring value to our audience. If you click on a link and make a purchase, we may receive a small commission at no extra cost to you. These commissions go towards improving our blog and creating a better experience for you. We really appreciate your support!
There are so many pretty places to go for your honeymoon that it is difficult to decide where is best to go. Let's face it, most couples want an extravagant destination honeymoon and we'll be completely honest, we are absolutely no different. We would love to say that we're unique and want to get a campervan around Italy, interrail through Europe or spend our time in budget hostels in Asia. However, we are basic bitches and we want luxury. This is our round-up for the top honeymoon destinations for 2023 to inspire you.
We got engaged in 2022 so we have been working to plan our Wedding & Honeymoon and we wanted to share some of these location ideas with you. If you're not yet engaged and want some inspo, you can check out our Getting Engaged in Kos article where we include a little about our engagement story and some tips for getting engaged abroad. We hope that these will give you some inspiration so you can be a basic bitch like us too!
Table of Contents
1. Hawaii – hotel that Amy & Jake in Brooklyn 99 stayed in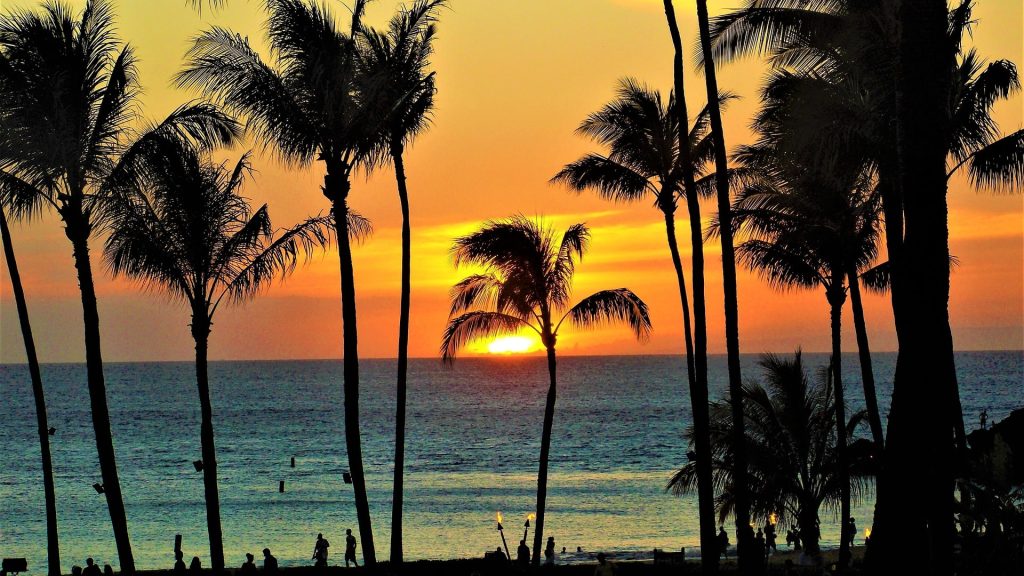 If you've read a few of our other blog posts then it may have cropped up that we're big fans of Brooklyn 99. To the point where Liam is literally Jake and Amy is Amy as characters. They go on their honeymoon to a resort in 'Mexico' and it looks beautiful so we of course had to find out where it was filmed. It turns out that this pretty resort is in Hawaii and is clearly meant to be as this has been one of our dream places for a honeymoon from the start. The hotel is actually called The Sheraton Kauai, Hawaii. I mean don't take our word for it, see for yourself but as you can also see it's not cheap either. We can dream though right?!
2. Maldives
I mean who doesn't have this on their bucket list never mind Honeymoon bucket list? One of the reasons why it's on our list is the water bungalows. Can you imagine waking up in the morning to a beautiful view of the ocean? We know that we're a bit too fancy for our income but we all have to dream right?! Our eyes are on quite a few of these but of course the one that catches our eye the most is the most expensive. We would love to stay at The Soneva Fushi water bungalows, it looks like absolute paradise!
3. Bahamas
Whilst this is still a luxury destination, another reason that this is one our list is that it has some of the best diving spots in the world. As people, we are quite adventurous and whilst we would love the first 2 options I think we would still need some more adrenaline in our honeymoon. We feel like the Bahamas may give us the mixture of luxury and activities to keep us active. If you've been to the Bahamas we would love to know what you thought and got up to! Feel free to tag us in your stories!
4. Caribbean Cruise
Amy is still uncertain about going on a cruise because she's worried she might get itchy feet after a while. She's willing to give it a go but that's why this is not the top of our Honeymoon bucket list. We've looked at quite a few different cruise options. Once again we would love to go on one like from Brooklyn 99 where there are loads of activities on the boat. When Jake and Amy are salsa dancing and they realise it's a widows event, that would literally be us. We always end up in stupid situations like that. Anyway, this is the kind of cruise that we had in mind…
5. Miami
We're certain that we're living in dream land but we imagine Miami as a honeymoon to be a fiesta. Like Will Smith said himself 'Everyday like a mardi gras, everybody party all day / No work all play'. That is exactly how we imagine it. Amy has been to Miami before but it was a resting stop before coming back to Liam after being apart for a year. As you can imagine, Amy was a little restless and didn't enjoy it as much as she could have. We want to turn that experience the other way round and make some memories together there.
As we said, there are so many pretty places to choose from for a honeymoon that it's so difficult to decide. This is a round-up of our ideal locations. We hope that it helps you make a decision on where you'd like to spend your honeymoon! At the very least, we hope it gives you so ideas!
Love, Amy & Liam x