5 Foods to Try When Visiting England
DISCLOSURE: This post may contain affiliate links. We only recommend products that we truly feel will bring value to our audience. If you click on a link and make a purchase, we may receive a small commission at no extra cost to you. These commissions go towards improving our blog and creating a better experience for you. We really appreciate your support!
It was actually really difficult to think of 5 foods to try because when you're visiting England everything may be new but for us this food is so normal. Even though Liam is Scottish, it's tricky to think what food might be different for those that have never been to England before. Whilst Scotland, England, Wales and Northern Ireland are all countries part of the UK, they are totally different and should not be confused, even if you can get similar food in both countries.
Table of Contents
1. Full English Breakfast
Until we had travelled a fair bit, we didn't realise how blessed we are to have a Full English Breakfast. The Scottish breakfast is a little different which is why we said you should never confuse the two countries. You can find out more about this here. The Full English Breakfast generally consists of eggs, beans, bacon, sausages, hash browns, toast, black pudding and a fried tomato. Whichever restaurant you visit, you will find different variations of this and may find other items such as fried bread, mushrooms and some may even replace the hash browns for chips, potato croquettes or even no potatoes at all. It really does depend where you visit but as long as the bacon is crispy and there are plenty of beans, you're on to a good start for a decent Full English Breakfast.
2. Sunday Roast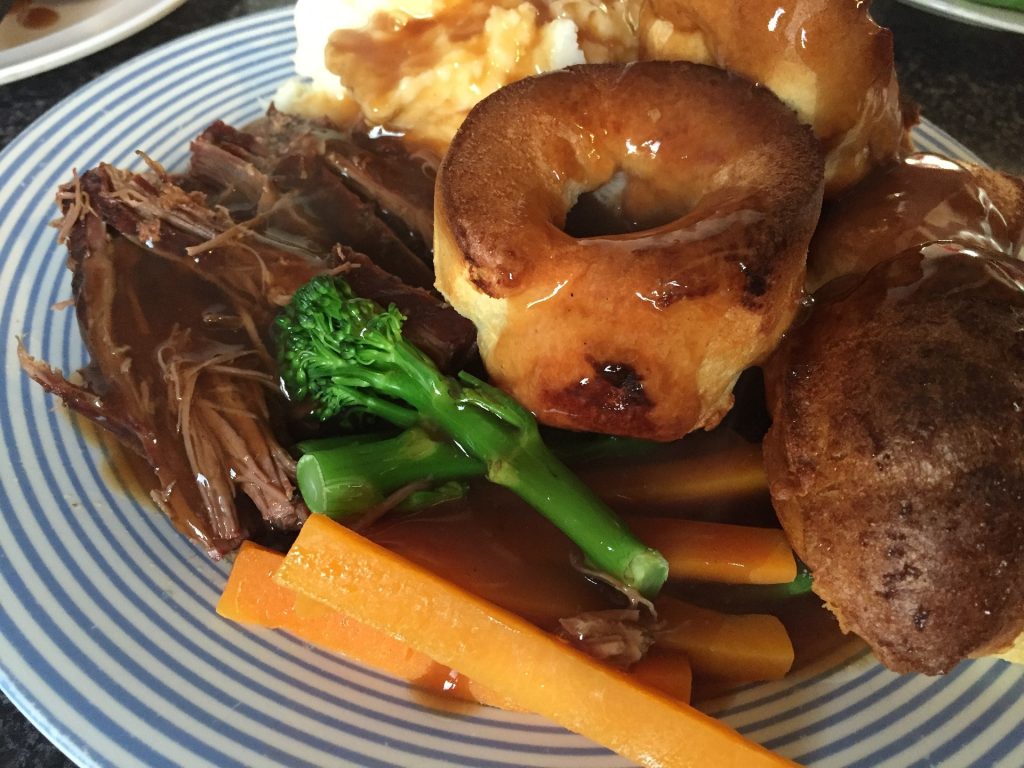 Unless you know someone that lives in England that will cook you up a Sunday Roast then you can visit many carveries across England that offer a buffet style roast. The meat usually consists of Turkey, Pork, Chicken and Beef. You can then take a selection of cooked vegetables including cabbage, peas, carrots, cauliflower, broccoli and even cauliflower cheese too. If you've never tried one then make sure to get a Yorkshire Pudding on your plate. You can also add stuffing onto your plate which will vary depending on where you visit.
Don't forget to add an all-time English favourite of roast potatoes. No roast dinner is complete without these. This will all be topped up with a lot of gravy and your selection of sauces depending on the meats that you have selected. The sauces usually include mint, cranberry and apple sauce. It is the norm to absolute load your plate so don't be frightened if everything is piled on top of each other. This is what makes a typical English Sunday Roast.
3. Shepherd's Pie
This used to be considered a poor man's meal but that is far from the truth because it is absolutely rich in flavour. In a Shepherd's Pie you will generally find ground lamb cooked with vegetables and a little bit of Guinness. This will then be topped off with creamy mash potato and baked in the oven. There is also the alternative version of Cottage Pie which is essentially the same but ground beef is used instead. This is a huge home comfort for most of the English so it's definitely worth a try.
4. Fish & Chips
This may sound like such a simple thing to have but it is really what the English are famous for. If you're visiting any seaside towns then that is where you will find the best quality as the food is fresher. Amy is from a small town called Clacton-on-Sea so she grew up eating a lot of seafood but nothing can bit a chippie visit as we call it. Often when the British say "let's have fish & chips tonight".
Believe it or not, they often don't mean that they'll have fish & chips. At the chip shop you can get battered fish and chips covered with lots of salt and vinegar and a side of mushy peas. However, they also do Saveloy sausages (which are well worth a try), battered sausages and pies. If you're ordering fish and chips, make sure to ask for a buttered roll. You can then try chip butty by putting your chips in the roll. It is so yummy and another common British food to try.
5. Pie, Mash & Liquor
This may sound really gross when you hear about it or even to look at but we can assure you that it is super yummy. It might be worth trying the pie and mash first before putting some liquor on to give it a try. It can be difficult to find traditional places that serve this but you can usually locate them in London or in coastal towns. If you get to try this, we would love to know what you think so drop us a message on IG.
There are so many great classic English foods a lot more than 5 to try while visiting England but as we said there are a lot of different foods that cross over between England, Scotland, Wales and Ireland. You will try so many different variations of them too. What have you tried in England that is uncommon in your country? Drop us a message on Instagram, we would love to hear from you!
Love Amy & Liam x
Save This For Later